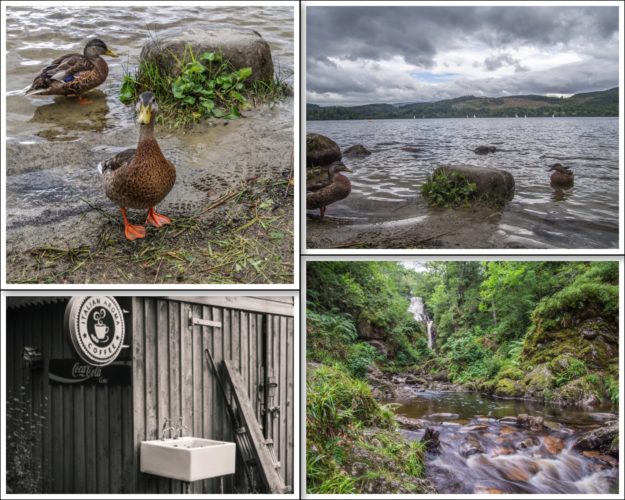 Today was to be dry, and so it dawned. Dry with a little sprinkling of sun – even better. The weather fairies had been telling the truth for once. That said, we took ourselves off to the wild highlands or at least the Trossachs which is a sort of tame wild highlands. We were pointing the car at David Marshall Lodge or DML for short. Instead of our usual route through Thornhill to Aberfoyle and up the Duke's Pass to DML, we rebels took the alternative way through blue-rinse Callander and over the other side of the Duke's Pass to DML. Callander is usually a bottleneck on this drive and so it was today, but the bottleneck was caused by two of the boys in blue (with yellow hi-vis jackets and a speed gun) checking the speed of anyone wishing to venture in to the town from the general direction of Stirling. Not that we had much chance of raising our speed above jogging pace because some numpty at the front had forgotten to bring the red flag with him to indicate that a motor vehicle was approaching. That's the way it seemed anyway. We passed the polis quietly, sedately and well under the speed limit. The drive up the Duke's Pass was uneventful and terminally boring. It's strange that when driving some roads, the scenery is much better in one direction than in the other. I hadn't noticed how little of interest passed the car as we travelled along this road until today. We arrived at DML only to find that, Shock! Horror! they've changed the name to "The Lodge". Now to someone born and brought up in Larkhall, The Lodge is synonymous with either Lambeg drums, Orange sashes and flute bands or groups of men congregating in a hall with a builder's square and a pair of dividers over the door. I'd never been involved in any way with either group but that is what The Lodge means to me. Orange or Masonic, these are the only Lodges I've known about and this was neither. No sashes of any hue, no aprons and no rolled up trouser legs – do they really do that? What happened to David Marshall? Was he ex-communicated? Did he retire? Was he sacked? Maybe they found out that he didn't belong to either Lodge, and he had to go. We'll never know, I guess. However, like the Clyde Arc will always be the Squinty Bridge and the Tradeston Bridge will always be called the Squiggly Bridge, so The Lodge at Aberfoyle will alway be DML to us.
We paid our £3 for a day's parking and headed off to get some foties and to walk the paths. Set up my tripod below the waterfall and waited until the lighting was right. Took a couple of test shots to get the shutter speed and the exposure right before starting the long exposure shots to get the water looking fluid. Then some prick, sorry if you're offended by the description, but that's what he was, walks right in front of me just as I'm taking the first exposure. Photobombed by a moron. Really, they walk among us. I wasn't for moving, despite the midgies which were clouding round me. He proceeded to clamber up and over some rocks. Maybe he thought he was a rock climber. Nah, you need to have a brain for that. I was waiting for him to fall in, that would have made a good shot. I took a few shots with him in different positions to make sure I could easily edit him out later. When I was happy with what I'd got I walked back to Scamp who was standing near his keeper (who was quite apologetic) and said to her, "Don't worry, the monkey won't be in the final shot." Some folk shouldn't be allowed out, even with their keeper.
After that, we had to cut our walk short as I was getting eaten alive by midgies. We had a quick lunch at the cafe. Scones are good and coffee is brown(ish) water. Don't risk it if you like your coffee to taste of coffee. If you normally have your caffeine hit in Starbucks, you probably won't notice any difference. After that we drove down the other side of the Duke's Pass and on to the Loch Ard road which is a dead end road after about 20 miles or so. We didn't venture that far. We stopped in a parking place and Scamp opted to stay in the car while I went looking for more photo opportunities without idiot photobombers. Met a group of mallard ducks that seemed quite happy to pose for me until it became obvious that I had nothing worth eating with me, then they went off in search of better feeders. Photographed some wee sailing dinghies on the loch, passed an outdoor wedding reception in full swing (hope they had lots of DEET spray) and drove back home. Bypassed Callandar just in case the polis hadn't filled their quota of speed merchants.
Dinner was yesterday's curries reheated and served with rice and home made flatbreads. I think they tasted even better than yesterday. Maybe it was just that we'd been out in the fresh air. Looking for similar weather tomorrow. That would be nice.