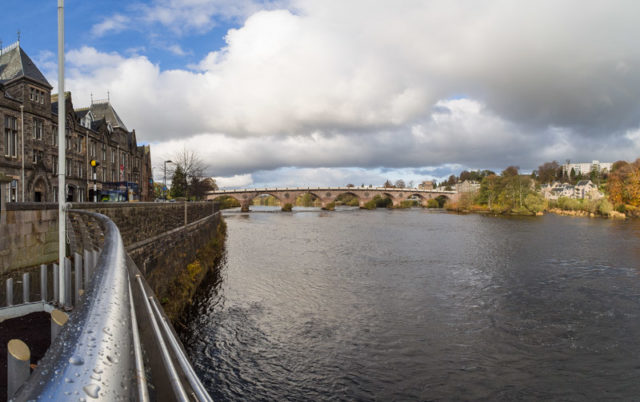 Today we were off to Perf. Gateway to the best coffee beans in Scotland, if not the world.
Drove up to Perf on a beautiful clear morning. That said, it became a bit cloudier as we travelled north. I'd come with gifts for the Perf folk. I donate my two bike carriers to the bike shop across the road from the car park. Neither of them fit either of our cars, and are now superfluous to our needs. They were just cluttering up the house and were going to be dumped, so if someone can get the benefit of them, all the better. I also took a load of computer books to the Oxfam shop in Perf. I've read them and used them well, but now I usually consult the InterWeb if I'm in need of information and besides, they were well out of date.
Next we had to decide what we were doing for lunch. Scamp had an Itison voucher for Cafe Tabou which is now under new ownership. We decided to give them a try and see if they'd kept up the excellent standard of the previous owners. For starter, Scamp had Roast Red Pepper Chick Pea Ragout with Tempura of Fish and I had Salad Du Chef.
For main she had Breaded Plaice Fillet with Chips(!) and I had French Black Pudding & Pork Belly. She was perfectly happy with her selection, I felt the main was a bit tasteless, although the caramelised apples and cider sauce was lovely. Worth another Itison voucher some time. When we came out the streets were just drying after a heavy rain shower and you could feel that there was still a bit of rain on the breeze.
After the lunch, we went for walk to get the coffee and tea that I so desperately needed. Then a walk along to the the viewing gallery over the River Tay. Beautiful light on the trees on the far bank and the sun was shining now on the bridge, so that became my PoD after it was de-fished (no fish were injured in the operation) and some work done on the levels. Samyang 7.5 is a really versatile lens.
With the river inspected, we headed back to the car and the drive home through some beautiful light with nowhere to stop and record it. We also passed through some heavy rain showers that had probably created that beautiful light on the hills.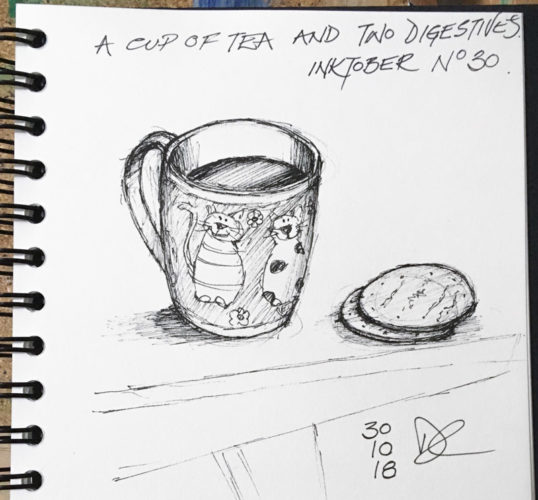 Sat and sketched my teacup and two digestive biscuits for today's Inktober sketch. Thirty sketches in and only one left to do tomorrow. Tomorrow as I'm sure you know by now is one of those busy days with two dancing classes and the driving to get there, there's not much time for dawdling, so I already have a plan for tomorrow's sketch. It will need a bit of preparation, part of which I have already done with the assistance of an Excel spreadsheet. Art and computing are not the easiest bedfellows, but hopefully one will help with the other if I have my way.
Tomorrow is a dancing day. Anything else will just have to fit in with that!