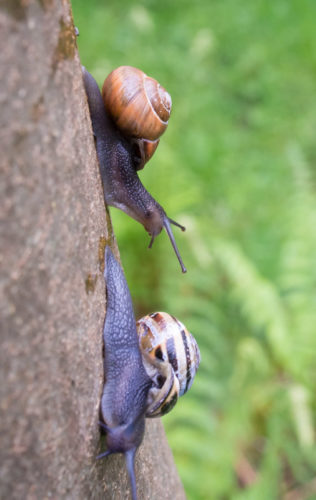 It rained today, almost all day, on and off. That held back the desert for a few days.
Scamp volunteered to drive us through torrential rain to Stirling to go to Dobbies to get an adaptor for the new kitchen tap to allow us to connect the hose. They didn't have the one I'd intended getting, but we did get an alternative. Scamp got a top in a Country Casuals franchise and I got a baseball cap. Originally it was to keep the sun off my head, but there was no need for it today. Next stop was Bridge of Allan for lunch at Vecchia Bologna. Unfortunately half of Scotland decided they wanted lunch there too, so we went elsewhere. After negotiating some of BoA's roundabouts we found a parking space on the bridge over the Allan Water and we went to the Allanwater Cafe for fish 'n' chips. Not your ordinary fish either, but breaded fish which is a 'special' fish in the rest of the chip shop world. We've passed this wee cafe many times and always intended to go in. Today we did and our fish tea was really very good. We'll be back, all being well.
Got back to the car and it was dry for a while as we made our way home. Got to Broadwood roundabout and found traffic chaos. Cars everywhere. Folk getting out of cars in the middle of the traffic jam, just mental. There's only one thing that can cause such madness and it's football. Sure enough, Clyde were playing Annan in the Scottish 27th division cup final. Eventually we got home by a circuitous route. While the shellshocked Scamp cursed herself for volunteering to drive today and settled her nerves with a 'white tea', I went for a walk to St Mo's as I'd intended getting a few photos in Stirling and the airts, but the rain had put paid to that, so St Mo's it was. Found lots of interesting stuff, but PoD went to the Snail Race down a tree trunk.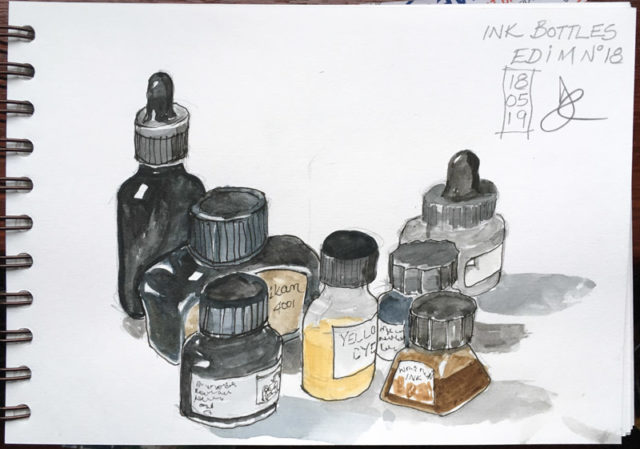 Back home and started today's sketch which was "A collection of bottles". All ink bottles of differing colours and designs. It appeared that every one had a different style of cap, but all one colour … black.
Made some cauliflower pakora and some onion bhajis which were deemed good enough to keep until tomorrow.
Tomorrow we may go dancing in Record Factory, but I'll be driving!