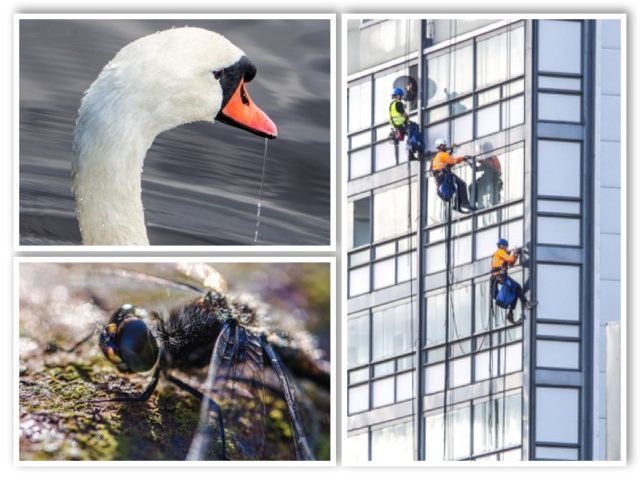 Sitting in the people's palace enjoying a roll 'n' sausage and a fairly decent cup of coffee. I'm becoming a real coffee snob, Hazy! Scamp had her usual peppermint tea and a couple of slices of toast. It seems strange sitting here on a weekday! We'd just been on a recce to find the party venue for John Carrigan's 60th in Ibrox, deep in Bluenose territory.
Earlier in the afternoon we were walking round Glasgow Green marvelling at three blokes who were abseiling down one of the multi-story flats. We thought they were cleaning the windows, but it wasn't until I got the photos home and processed that it became clear that they were actually repairing the windows. They were replacing the seals. Not the sort of job I'd like to be doing, even on a beautiful day like today. However, the view from the top would have been wonderful.
After lunch we drove home and I went out to see if the dragonflies were still sunning themselves up at Fannyside. They were, but their numbers well well down from last week. Only about half a dozen rather than last week's nineteen. This time I had the proper gear. Nikon D7000 and the Sigma 105mm macro. Maybe it was because it was later when I got there, but the little dragonflies that landed seem lazy and quite happy to simply sit there and be photographed. As usual, I got the feeling that they were sizing me up as I was photographing them. Scary things dragonflies.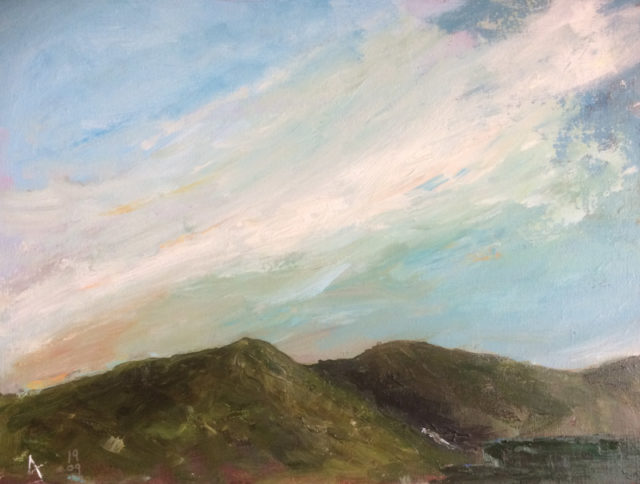 In the morning, I'd put what might be the finishing touches to my acrylic painting, so I present it here for your perusal.
Salesman from the garage phoned tonight with an update on the car. It might be arriving a day or two earlier. We'll know for sure later in the week.
Finally, we don't have a plan for tomorrow apart from Salsa at night and yesterday's move wasn't Sombrero Doble, it was Balsero Dos. Almost the same thing.