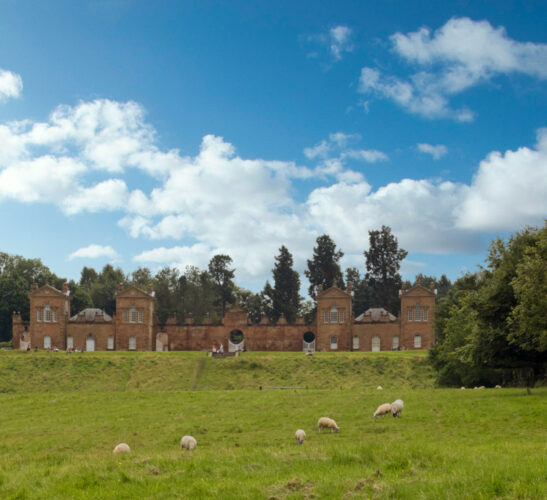 That just can't be right, surely? Yet, that was what the thermometer in the car read. The outside temperature this afternoon was 27ºc.
We knew it was going to be hot today, but although we'd been warned, we just didn't believe it until it happened. We'd decided that we would go out somewhere for a walk. We'd considered and rejected a few places. There was no point in going to the seaside because everyone would be going there. We finally settled on Chatelherault which was once the hunting lodge of the Dukes of Hamilton. Now it's a country park in South Lanarkshire. Every time I go there I think it's obscene that one family should have owned such a house in an enormous tract of land while others, the workers, were living in slum conditions with a tiny postage stamp of a garden to grow basic vegetables if they were lucky. Thankfully this building and its lands are now owned by South Lanarkshire Council and are open to everyone, even the scruffs from North Lanarkshire!
We chose a walk that we'd been on before, down through the gigantic pine trees with the Avon Water flowing below us. At the end of the walk we saw this view and it became PoD. It was good to see the ordinary folk staking their claim to some space in the sun on such a bright and sunny day. Actually it wasn't all that sunny, but it was bright and warm and a clever bit of software changed the sky from milky white to summer blue with fluffy clouds. That's the way it should have been anyway!
Once we'd walked "round the policies" as Colin would say, we drove home leaving a parking space for one of the eagle eyed visitors. Drove home and had lunch, then sat in the warm air of the garden for a while reading and listening to weans with their Drum 'n' Bass 'thumpy tunes' as they walked along the footpath behind the house. Were we like that once? I suppose we were. Rebels without a clue. Found a little neon blue weevil in the grass and took its photo before it flew away to its next modelling assignment. Still don't know exactly what it was.
Dinner tonight was a freezer raid for me. Butcher's burger from January, butcher's sausages from May, Waitrose liver from yesterday and an egg from a different butcher and half a portion of fried potatoes. A very mixed grill, but delicious. Scamp had trout fillet with the other half portion of fried potatoes. It was clouding over and attempting to rain by the time we were finished dinner and on to pudding (blackcurrant jelly and ice cream) and soon after that came a flash of lightning and the rumble of thunder. The rain became torrential and I think you could say the heatwave was over, but we did get 27ºc on the way home from Chatelherault.
Tomorrow the temperature is predicted to be a more reasonable 17º to 19º. Warm, but not crazy warm. We'll see.