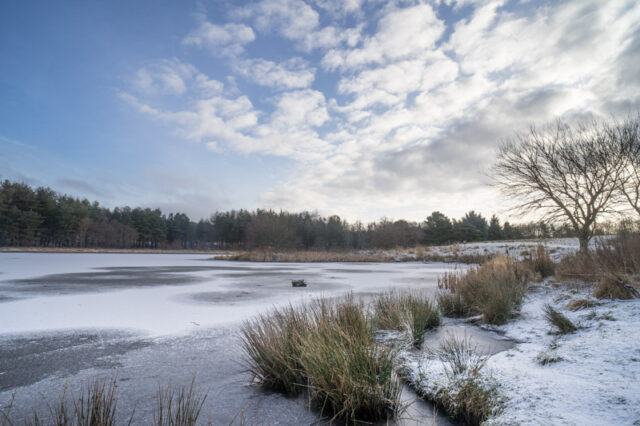 Today it's exactly 50 years since we first met at our friends' engagement party. That was a Saturday too!
It was cold and frosty with just the thinnest covering of snow, so it was boots and YakTrax just in case. Not a long walk today, just a couple of circuits of St Mo's pond. I took the Sony plus kit lens and my old Sigma 105mm macro on the adapter. The Samyang 18mm is always in the bag. That covered all the necessary bases. Two circuits was what we predicted and that's what we did. Cold, but not absolutely freezing. Most of the photography was of landscapes with the macro lens providing some arty-farty close ups. After lunch it was time for me to give a cursory glance at the photos and for us both to begin to prepared dinner and tidy up a bit.
Later in the afternoon a knock at the door signalled the arrival of a large box of beautiful flowers from Hazy, JIC, Neil D and Sim. (Alphabetical arrangements are always safest). To say we were taken by surprise is an understatement. It's rarely Scamp or I are lost for words, but we were today. Thank you, you lovely people.
Dinner was a sit at the table affair and a full three course meal. We decided it would be appropriate to celebrate the fifty years since we met with a glass (or two) of Prosecco before dinner.
It began with a seafood starter. Mine being Prawn Cocktail and Scamp's was Seared Scallops. Mains were Lightly Smoked Trout for Scamp and Sirloin Steak for me, served with potatoes. Dessert was Eve's Pudding. All washed down with a very nice red wine. Music just had to be Songs of Leonard Cohen.
Later we tasted a bottle of Dark Matter (not the whole bottle, not yet anyway!). I had a small glass, neat and Scamp had her traditional Coke with her's. Interesting taste of spice, something hot and treacle. We may need to try some more tomorrow, just to be sure. While sampling we watched a bit of TV and decided an early night would be best before the room started spinning too fast for us to find the door.
PoD was a landscape from the morning's photo shoot.
Tomorrow will be the day of reckoning, I'm sure.
This, inevitably, is the catch-up write up.