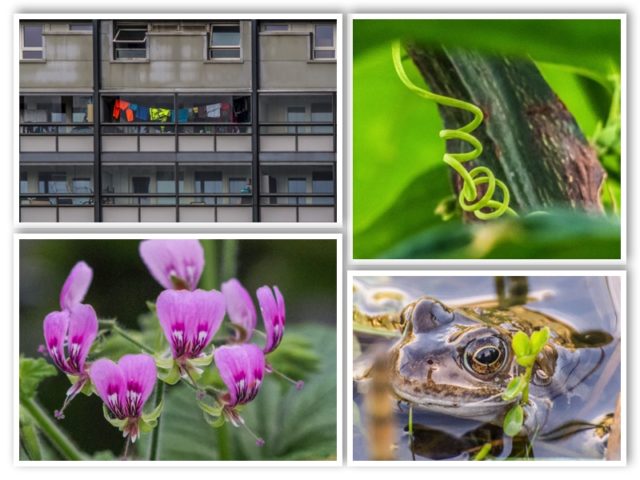 We decided, well I suggested, last night that we go for a walk down Glasgow Green today.  It fitted with the new regime of getting up that wee bit earlier, especially if we were to miss the hoards of 'Billys' and 'Dans' who would be heading for Celtic park for a local derby, AKA a punchup, because that's what usually happens.  Actually, although Celtic park is close to Glasgow Green, I'd rather drive there than Ibrox which is the Rangers park.  Both Scamp and I know lots of short-cuts we can take to avoid most of the Parkhead traffic, but if Rangers are playing at home, the motorway becomes one big car park with all the maddies desperate to get there before anyone else.  I imagine living near Ibrox must be a nightmare, no matter which team you support.  I can just imagine all those cars parked everywhere.
So we drove through the green and white hoards to The Green and got parked without any problem.  Walked down to the McLennan Arch at the far end, then back along the side of the Clyde past the rowing clubhouse.  The high flats on the far side of the Clyde always impress me.  They seem to catch the light so well, especially in the winter and spring.  I took some pictures of them, but preferred the shot of the washing drying behind the perspex screens.  Lots of rowers out today and an unusually large number of '8s' with the self-important looking coaches cycling along beside them shouting through tannoys.  Stood on the suspension bridge watching the coming and going of the different boats with their varying skill sets.  Then went up the hill to the People's Palace.
Went for the usual lunch of Roll 'n' Sausage for me and two rounds of Toast for Scamp.  My sausage was inedible.  That's the first time that's happened to me.  I think it must have been left over from New Year's Day and had been 'nuked' in the microwave once a week since then to heat it up and kill of the bacteria.  I left it on the plate.  I value the few teeth I've got left and wasn't going to risk damage to the expensive crowns.  Maybe I should have complained, but, like I said, this is the first time it's happened, so I'll cut them some slack.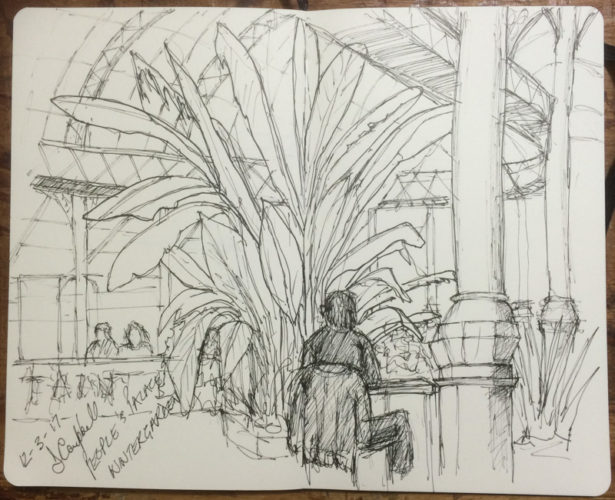 Did a quick sketch of the inside of the Wintergarden.  It's still got its emergency sheeting in place to prevent any further risk of falling glass panels.  I expect that sheeting will become a permanent feature, which is a shame, because it does detract from the look of the wrought iron trusses, but safety before beauty, I suppose.  I am quite pleased with the sketch because the perspective is fairly correct, but also I managed to include a couple of people, something I must practise.  Walked round the plants and took a few shots.  Smiled when I saw a wee girl with her wee sister and a point-n-shoot camera. Talking into it as if she was conducting an interview, finishing with "… and that's it for this visit to Glasgow.  Handing you back to the BBC in London."  Imagination.  That's what it's all about.  The camera wasn't even switched on.
Came home and dumped my photos, then the sun came out.  It had been raining on and off all morning, but now the clouds had rolled away and the sun was coming out.  Scamp was 'Tidying Up' and I didn't want to get involved in that, so I too the 'Big Dog' out to St Mo's to see if there was anything interesting there.  Some coots building nests, but they were too far away to make anything of.  A cormorant, but it flew away.  No deer to be seen, but load of frogs.  Spent a wee while watching them, watching me.  I took some photos of some of them, but didn't notice them photographing me.  Maybe they did and have posted them on FrogFlickr.  Maybe they're writing in their blog about the BigBloke with the BigCamera who they saw today.  Who knows.  We are not alone in this world.  Might go back for some more photos tomorrow.
Dinner tonight should have been Tuna steak, but neither of us were impressed with it.  It just didn't taste right, so we ditched it.  It looked so nice too.  Last time we'll go to that fishmonger – it wasn't even Tesco!
Hoping to go in to Salsa early tomorrow to get some 'messages'.