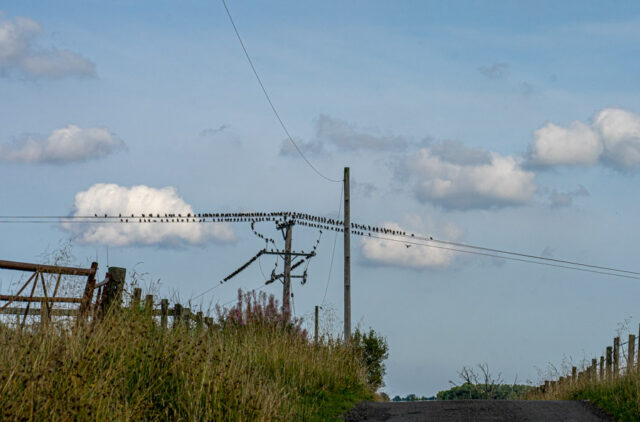 Not me, I've had mine cut for this year.
Scamp was off to the hairdressers who were going to dress her hair for her. I was going out to get some photos, but first there were photos to look at and and yet more photos to look at on Flickr. I'd charged up the cameras and made sure there was still space on the SD cards, then Scamp returned with her hair suitably dressed. Well, I thought it looked fine, but she didn't like it. What is it they say?
"The difference between a bad haircut and a good one is two weeks."
They also say "Beauty is in the eye of the beholder"
'They' say lots of things, most of them pointless.
After lunch she was thinking about cutting the grass and I was thinking about taking some landscapes, then Veronica phoned to say she (or her husband) thought the music we'd made for her to sing to at her daughter's wedding was too high and could we lower it? Scamp and her discussed it over the phone and decided we could lower it by three semitones. I agreed although I've never seen a 'semitone' but I've been accused of 'lowering the tone' a few times! It was the work of about ten minutes to do what was necessary to the recording and burn it on to a new CD. Scamp said she'd take the CD to Veronica and I said I was going looking for photos.
I drove up to Fannyside, parked and was just walking up the road when I saw a tiny little dragonfly, not a damselfly, sitting on a fence. I kept my eye on it while I carefully drew the camera out of the bag and switched it on. I took my off it for a second and it was gone. The next thing I knew was it was sitting on my shoulder. Too close to use the camera, but if I could just get my phone out of my pocket … but it was gone again, and this time it wasn't coming back. Such a pity, but a good story!
I walked up the path and discovered a host of birds sitting on a power line. I couldn't count them, there were so many. The main bunch were starlings, but there were some sparrows and a few swallows, all twittering away. I got a few photos and then they all flew down into the garden of a farmhouse as if a dinner gong had sounded. That congregation was PoD. Shot a couple of landscapes, because that was what I'd gone for, but nothing beat the birds.
Drove on towards Arns, which is a farming community on the outskirts of Abronhill, on a narrow single-track road with no passing places when I met a van coming the opposite way. I reversed along the road for a few hundred metres until I found a safe place at a gate into a field where I could squeeze up next to the gate and the van could squeeze past. I got a wave. I thought I deserved a round of applause. Driving in reverse, using my reversing camera as a guide. I've never met any traffic on that road while I've been driving … until today.
Drove on to the car park at Greenfaulds station and parked there, then went for a walk along the Luggie. Got a photo of a spider, a big one, tucked into one of the seed heads of a yellow rattle plant. I've posted it on Flickr hoping for an ID.
A can of Guinness and a tin of Pimms for Scamp in the garden back home. More strawberry vodka & lemonade later to watch a recording of University Challenge. What a hot day that was. Hoping for the same tomorrow.
Scamp's out to lunch with two of the witches tomorrow. I might make myself a pizza and then take the Dewdrop out for a run.