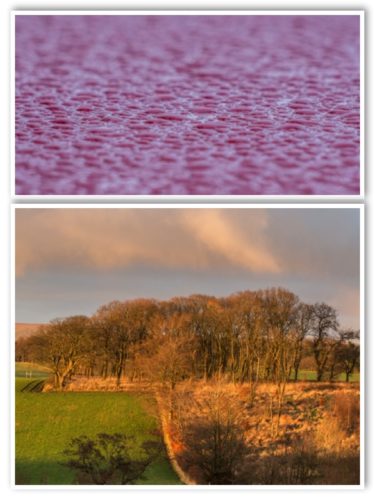 Today dawned, like the rest with a dull, grey cloudy sky.  It didn't look as if it was going to get any better and it lived up to that promise, in fact it got worse.  A heavy mist came down obliterating any view that had been there.
I decided to make the best of the day and print off a first copy of my 2017 calendar.  Unfortunately, El Capitan doesn't want to work with my Canon ip4500 printer.  Canon don't want to supply a driver and Apple don't care about any hardware more than seven years old as I already know.  A quick search of the internet confirmed my suspicions that there is no workaround for the problem, apart from buying a new printer.  I did manage to get the calendar printed by converting my Pages file into a PDF and using this to print it off on my old Tosh laptop.  A laptop much more than seven years old.  Despite my disappointment, or maybe because of it, I drove in to Glasgow hoping that Staples could supply me with a magenta cartridge for my ancient printer.  They could at £16.95.  Rather expensive when you find that Amazon can supply a three cart set for £26.  So Stalples is going out of business?  I think I can see why.  I didn't buy their overpriced cart.  One interesting thing I found out is that Epson sell a 3 in 1 printer for £189, complete with two years' worth of ink  No more dinky ink cartridges, this thing works with bottles of ink.  It sounds like a good investment as long as Apple don't make it obsolete halfway through my second or third bottle of ink.  I'm really beginning to become pissed off with Apple's devotion to designed obsolescence.  I may bite the bullet and go back to Mickysoft.  It's slow and sluggish, but at least the OS just works.  Something I used to say about Apple, but not any longer.
When I was driving home my mood was lifted by the golden light making everything glow.  Now, that's more like it.  The clouds had blown away, the mist had lifted and the sun was setting with a beautiful glancing light.  Instead of heading straight home, I took the road less travelled and with better views of the landscape.  That's where the photo of the trees came from.  Even the mist earlier in the day had produced the water beads on the car roof and gave me one shot in the bag before I left for Glasgow.
Salsa tonight was a Christmas Extravaganza, one of JamieGal's specialities with dancing, games, glow-sticks, silly hats and prizes.  He'd previously issued an open invitation to dancers past and present, from our school and from any other and none and there was a great party spirit.  Fun for all, that's just his way.  Brilliant.  One of the best teachers I've had the pleasure to meet.
Tomorrow?  Maybe a swim.