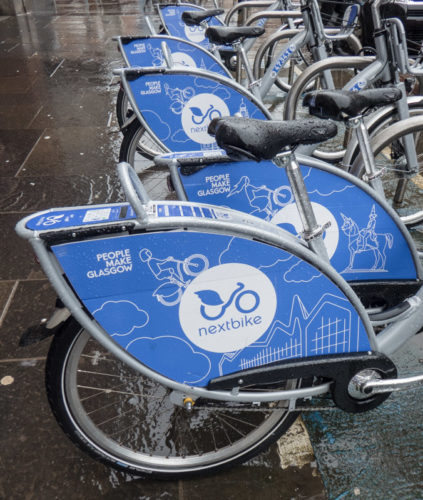 A case of on, off, on, why did I bother.
Scamp got a text this morning from the dance teacher to say that the class was cancelled today. She texted back "Disappointed, but OK." Next text that came in was "Sorry, class back on again." So we wrapped up warm and headed out into the blizzard that was blowing from the dreaded east again. Not snow this time, but more like sleet. Visibility was poor on the M80 and traffic was taking it nice and easy. Got down to the dance class in time though.
Started with Waltz and it wasn't going well. I got half way through the routine and then started making it up! Eagle-eyed Michael (the teacher) saw it and pointed out what I was doing wrong and also how to fix it. Tried again and again and again and every time it was wrong. Eventually I think he gave up and said that I had most of it right. Then he showed me the next move which for some reason clicked right away. We're still not sure exactly what it was called, but it was a turn of some sort and it felt quite natural, but it may not be the Natural Turn. With the mess I made of the routine up to there, it was probably the Unnatural Turn!
Anyway, now it was time for the Jive and that's where things started to go downhill. Downhill and accelerating. Up to now we've been doing Ballroom Jive, but today we were doing the easier Glasgow Jive. Ballroom Jive is done to a count of eight and Glasgow Jive is done to a count of six … apparently. The waltz was just a case of me getting my steps mixed up. The jive was where the two left feet started taking over. It was bad enough trying to step through the routine, but when we came to dance it, it was impossible. I just had to stand there and laugh. This was going to take a long time and a lot of swearing!
I'd mixed up what's called a Production Batch of sourdough before we left the house.  (The Production Batch is an extra strong version of the starter which you use in place of active yeast when making a sourdough loaf) It turned out far to claggy and thick and was impossible to stir, far less beat, so I added some more water to get a reasonable consistency. When we got home from the ballroom torture I discovered that it was quite a lively Production Batch. It was fizzing away nicely, so I stirred it up again and left it to sit until we came back from the next bit of dancing.
Salsa was good and although I like the idea of being able to waltz, salsa is so much more fun. However after an hour in the afternoon and then two and a half hours in the evening I was beginning to lag a bit when we finished our dancing day.
Back home the wild yeasts had been hard at work and the 'head' of the Production was up at the top of the jar. When I beat it back, there was a definite 'boozy' smell coming from it. Apparently a sign that it's ready to go to work proper. Long story short, I've kneaded the dough and it's now doing an overnight 'prove' (a first rise) and should be baked into a loaf tomorrow, all being well.
Today's PoD was taken when we came out of the dance class. It has been a dull, wet, sleety day, but when we were driving in to salsa tonight, about 7pm there was beautiful light on the Campsie Fells. I would have stopped to take a few shots, but apparently the traffic police take a dim view of people who stop on the hard shoulder of the M80 with the excuse "But ah wis jist takin' a few foties!"
Scamp is going singing with Gems tomorrow afternoon. I may be baking, or I may be going out looking for laptops and photos, but not necessarily in that order. I might even say bye bye to about six years of Windows 10 misery when I kill off my school Toshiba laptop and reinstall Win 10 before I sell it.