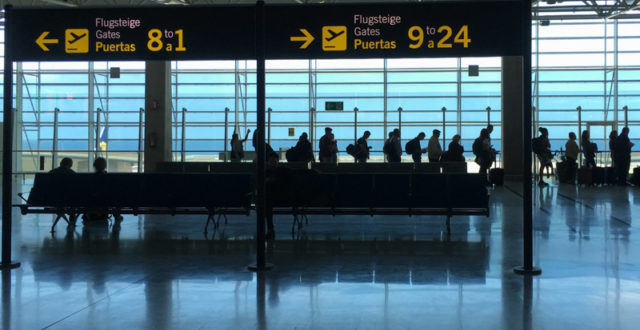 Bags packed, ready for the off.
After an uncomfortable nightwith a swollen finger and a pain in the side after yesterday's gymnastics, it was time for the last breakfast.
Since we didn't need to leave the room until midday, we went for a walk along the front to soak up a last couple of hours of sunshine.  Sat on the same seat as yesterday with the same toy mouse, still unclaimed and gazed at the same sea.  Finally had to drag ourselves away.  Said goodbye to the wee toy mouse and told it we were sure someone would come back to claim it, then turned to face the journey home.
One final check of the bags before heading for reception. Sat and read for a while before we booked the taxi which arrived about two minutes later and we were off to the airport.
Whizzed through check-in and security and settled down to wait. Called to the gate earlier than we'd expected and were off home to a cold Glasgow, then drove home.
There's not a lot more you can say about the long day at the end of a holiday, certainly not anything interesting.  It wasn't the best holiday ever, and definitely not the best hotel we'd stayed in, but it was  a week in  the sun and it doesn't matter what the hotel is like or the food is like, the sun's the same for everyone, and the sun is free.
PoD was the queue at a gate in Fuerteventura airport.
Tomorrow reality will kick in!