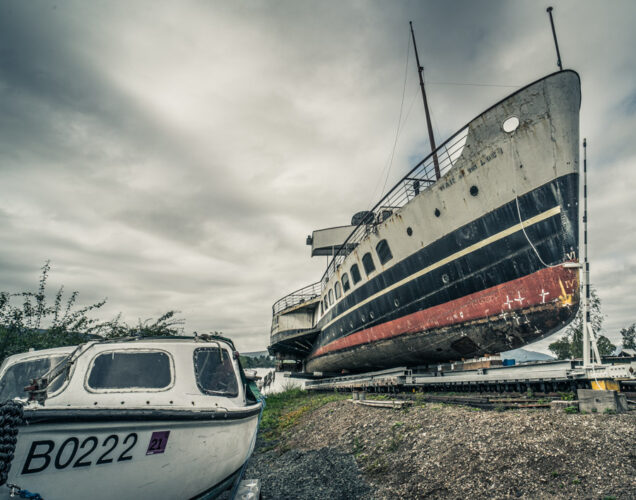 Today was to be a better day than yesterday, which wouldn't be difficult.
We chose Loch Lomond to be our destination. Scamp said she wanted to go and have a cup of coffee somewhere nice. Lomond Shores which is a retail area at the south end of Loch Lomond looked as if it would fit the bill. Well, we did have coffee and a bite to eat. We even got a window seat, so that ticked both of Scamp's boxes.
As Lomond Shores is a retail area, some retail therapy was in order. I was still looking for a decent pair of trainers for a decent price. Scamp was looking at dresses and tops, but ended up with a pair of trousers, walking trousers. Not exactly fashionable, but certainly practical and for a practical price too. I couldn't find anything that suited my feet for any price and I've all but given up on the whole idea. I might just buy a pair of flip flops, preferably pink and wear them.
We had a walk around the sad wreck that used to be Maid of the Loch. She was the last paddle steamer built in the United Kingdom. I only sailed on her once, on a school trip to Rowardennan to climb Ben Lomond, back in the mid 1960s. She was a beautiful boat then, so it's really sad to see the state she's in now. I really can't see this boat returning to the loch. It's just not going to be a practical proposition. Such a shame. PoD was heavily post processed shot of the old maid taken through the railings of fence that keeps her safe for the time being.
Drove home via Stirling. It was a bit longer than the route we came, but the scenery was better and the road was much quieter. When we were driving to Loch Lomond in the morning we stopped at traffic lights before going on to the M73 and I noticed a van with a familiar logo but a strange company name. It read "bqb", but the logo looked a lot like the DPD cube. I said this to Scamp and she laughed and told me I was looking at a DPD van in the wing mirror! We passed a house on the way home today and its name was "Gowk" Another of my mum's words. It means an idiot. That's what I felt like, a Gowk!
No practise tonight, but that just means there will be one tomorrow. We have no real plans for tomorrow. If the weather fairies are correct tomorrow is going to be hot and it will be the last hot day for a while, so we may go for a walk somewhere.