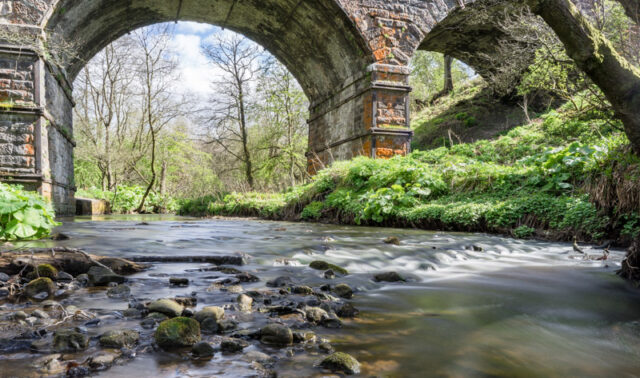 We managed to grab one of the last remaining slots for lunch today at The Cotton House in Longcroft.
Since we were late in booking this busy Cantonese restaurant we were given a one hour slot at 12noon. We've been there many times and we know that a one hour slot is quite sufficient for a starter, main course and a coffee or China tea (never any room for a pudding!). So it was today. Starter for Scamp was Prawn Cocktail and Chicken Satay for me. Then Chicken Chow Mein for two. We were finished by 12.45 and on our way back to Cumbersheugh.
I needed to replace the cutter on my electric razor and Scamp was looking for prezzies for two children. We got the prezzies, but no razor spares in Boots. Maybe we'll be more successful at The Fort during the week. If not, then its Amazon to the rescue again.
Back home a parcel had arrived for me. It was a 6 stop Neutral Density filter which would allow me to slow down the shutter speed of the camera to give water that strange dreamlike look. I've had a hankering for one for quite a while and finally gave in to myself and bought one. That settled it, I was going out for a walk along the Luggie to test it out. I took the Benbo tripod with me. For this type of photography you really need a tripod and the Benbo is so good at getting into awkward positions. It's also a lot lighter than my big Manfrotto tripod.
Once I got to my chosen site and set up, I took a few shots, but knew they weren't going to make the cut. Wandered down the water and found a place I'd used before with the old railway bridge in the background and the shots from there were much better. There would have been more of them, but I hadn't noticed the splashes of water on the filter. That didn't damage the filter, but it did mean a few more than normal ended in the bin during the cull. Today's PoD is one of the best.
While I was out, Scamp had been on a cleaning spree, mainly the bathroom, but also anything that didn't move was fair game I think. I'm glad I was out or I might just have fallen foul of the scrubbing brush too.
We swithered about having a seat in the garden and were almost ready to get the chairs out when a very big black cloud made its way between us and the sun and that scuppered our chances of an afternoon alfresco glass of wine. Later we shared an pizza and it seemed a shame to open the bottle of wine and not sample it, so that's what we did. It was Friday after all.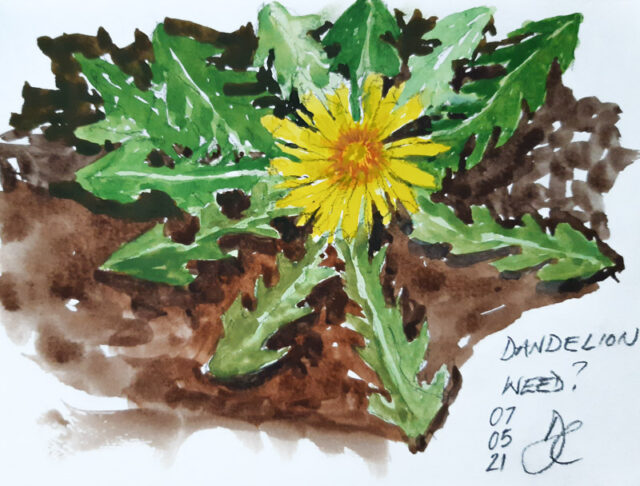 Today's prompt was Weeds. I chose a Dandelion. The scourge of all gardeners, it seems. Actually I like them. From a photographer's point of view they are a source of interest in the summer when the butterflies are about. In the late summer and early autumn they produce those photogenic 'dandelion clocks'. What's not to like? As my mum used to say, "A weed is just a plant in the wrong place." So, it was a painting of a dandelion that made today's EDiM offering.
Tomorrow looks miserable from a weather perspective. I really don't see us doing very much, although there might be a dry hour in the morning when we might get out for a walk.