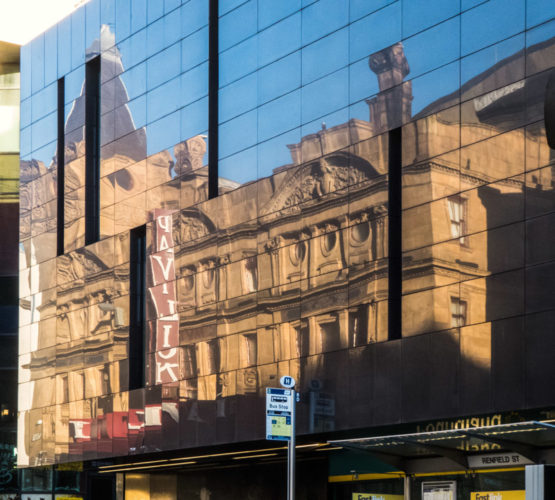 We went in to Glasgow today.
We didn't really need anything, and we've done enough spending these last two or three weeks. No, we just wanted to walk round the shops (and see if there were any bargains in JL – there weren't) and have a cup of coffee somewhere. Somehow that walk round the shops expanded to fill over 8000 steps according to my Fitbit™. It also cost us £4.50 in parking. Where that time, those steps and that money went I'll never know. Maybe we went into a walking timewarp. Anyway, it got us out and I got a photo. The new rule about the 365 is that I must take at least one picture every day that will become part of two albums and at least one group. If you don't do Flickr this will mean nothing to you. Today's PoD which was categorised under Architecture, Reflections and Glasgow in Albums was a the reflection of the Pavilion Theatre, taken with the Teazer. It's becoming a serious contender for the best camera in the world. I.e. the one you have in your pocket.
After we came home we discovered we needed milk and bread, the two staples along with photo paper that every home should have, so I volunteered to drive to the madness that is Tesco (DO YOU KNOW THAT TESCO WILL BE CLOSED FOR A DAY NEXT WEEK??? WHAT WILL WE DO???). It seemed like the whole of Cumbersheugh was in there buying every bit of food they could get their hands on. Come on people, it's only going to be closed for one day. Got the milk and the bread and just in case there was a sudden run on photo paper, I got two packets. When I came home and parked the car, Scamp decided she needed to clear the snow and ice from her car, so, as I was dressed for Alaska, I helped her and soon we found this little red Micra under the white blanket that had covered it for the best part of a week.
The photo paper was for printing out my annual calendar and I've now got four copies of it without a front page yet, and without December because December isn't finished yet and there just might be an award winning PoD picture I see in the next few days. Unlikely, but possible. Anyway, that makes it 4×11=44 full colour pages and there's hardly any drop in the ink levels in the Epson's tanks! Impressive. That's what I call economy.
Temperature is -3.3º just now and I think it's beginning to rise. Snow is forecast for around 8am tomorrow, turning to rain by afternoon. Hopefully H&N won't be troubled by it.
I don't think we have any great plans for tomorrow. We may go for a last swim of the year or maybe a quick turn around the gym. Then again, maybe we'll just tidy up again and wait for our visitors.