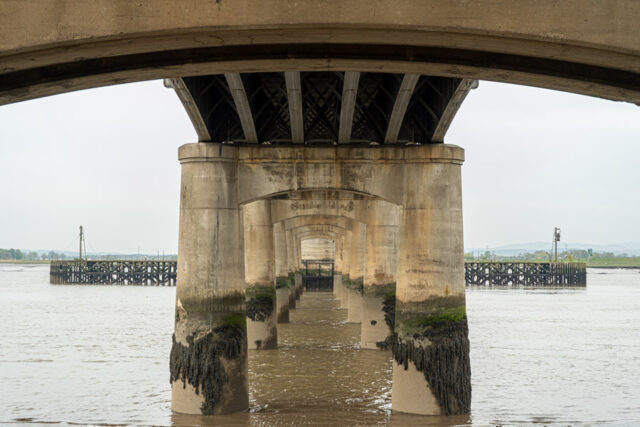 Driving to Perth for coffee. But …
I intended driving up to Perth today to get some coffee from my favourite tea and coffee shop, but on the way there I was calculating how much petrol I'd use and how much the drive would cost me. When I worked it out, it would be way cheaper to just order it online and pay the £3 delivery charge. So I changed my destination to Kincardine. At least I could get a walk and some different photos, plus free parking. The weather wasn't great, with the rain clouds building from the west, but I got some interesting views, well, I think so anyway. The rain was just starting when I was halfway home, it hasn't stopped. Kincardine did, however, provide today's PoD.
I came home via Tesco to get something for lunch and some milk. No alcohol today. Now, I'm not saying that's because Scamp isn't at home this weekend, that's purely coincidental!
Struggled with my Sudoku after the late lunch but it still remains unsolved until tomorrow. Couldn't quite decide what would be dinner tonight. Would it be home made pizza or Golden Bowl. I eventually gave in and had Golden Bowl make me a fairly decadent Sweet and Sour Chicken Balls with Fried Rice. My only complaint was the fried rice was a bit soggy, but the sweet and sour was delicious. I know I'll suffer for it tonight, but I don't really care.
Finally finished Amongst Our Weapons. The little short story at the end was confusing, but added to the title, I felt.
I've just finished a photo swap with Alex showing our favourite photos from the last week or so. Really good to have someone to bounce ideas off.
Jamie sent some cracking photos of his day off in NYC. Beautiful skyline behind him on the boat. I really hope Time Square is equally good. You deserve it Jamie.
That's it for today. Now I need to go and get the house looking more like a home than a student flat!
Tomorrow Scamp returns and expects everything to be just like she left it! It might be!