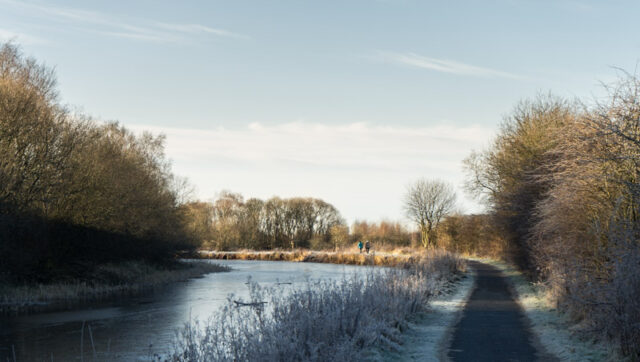 It was a cold start this morning, but it was worth it.
We both agreed we should go out today in the bright sunshine and under a blue sky. I defrosted the car again, but this time we both bundled into it and drove down to Auchinstarry and had a walk along the footpath almost as far as Twechar. A few other folk were also out taking advantage of the cold dry morning. The canal didn't look as if it had thawed out this year. Lots of boulders and tree branches sitting on the ice were testament to that. I know the branches could have been floating down the canal, but I doubt they would have been that high out of the water. The boulders and stones? That's a different story. That ice hadn't melted for ages, maybe since the last ice age, or at least since about December last year. The path too was icy and we had to tread carefully. It's a rough tarmac path and usually it gives good grip, but it felt like the ice had melted there and just as it was beginning to flow, the temperature had dropped again and it was frozen in place. Possibly it was black ice which is always more difficult to see than the usual frost.
We turned just before Twechar because the path narrows at that stretch and there isn't so much to see. Scamp wasn't impressed. I think she wanted to carry on to Kirkintilloch, but I suspected a roadblock or a path block with fifty Kirky polis waiting for us as we passed Twechar and attempted to enter East Dunbartonshire without reasonable cause. The polis would all start arguing about who would get to write the On The Spot fine and who would pocket the money. We'd have to be quiet as we sneaked away while the argument grew more and more heated. The Twechar polis would then be brought in and they in turn would challenge the Kirkintilloch polis with forming an unruly mob and breaking Covid-19 rules. That's why we turned back. Nothing to do with the lack of photo opportunities or that I was getting cold.
The walk back was just as scenic as the walk there and I was pretty sure I'd one, if not two candidates for PoD in the bag. Passed more folk out walking in the sunshine, everyone making sure they were keeping a decent social distance. It was Scamp who noticed that the stretches of the canal that were in the sun were still frozen solid while the ice in the areas in the shade looked a lot thinner. We didn't come to any sensible reason why. Answers on a postcard please if you have knowledge of this anomaly.
I did think of going back out again after lunch (poached egg on toast), to try out an idea for a photo, but decided I'd keep my idea until tomorrow, when more ice and possibly snow is forecast to descend.
With some time on my hands I finished off the Toilet Calendar which is finished and hanging in the little room. Both of us are pleased with it. It's got twelve photos, six from each of us of sunny climes.
Dinner tonight was Fish and Cabbage Risotto. Sounds mingin', I know but it's quite delicious.
Tomorrow we have our second visit from Barbara ready to administer another test and ask more searching questions. This time we will be ready with answers without looking blankly at each other, saying "Um? … Ah? … I'm not sure." Possibly a walk in the morning again, but this time closer to home.