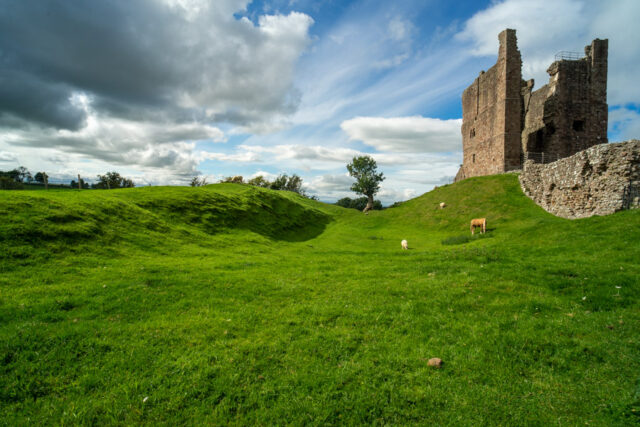 First day walk about.
We drove into Kirkby Stephen which is the nearest town and parked at the main carpark beside the auction mart. Carpark was really busy, even for a Saturday, but we found a space. The church bells were ringing and we assumed it was a wedding. Lots of well dressed people heading for the church and that's what initially gave Scamp the inkling that it wasn't a wedding. They weren't dressed for a wedding apparently. It turned out it was it was a memorial for a woman called Joan Johnstone who was an important local Councillor.
We walked over Frank's Bridge. Not a clue who Frank was, then around the cricket pitch looking for the path to take us up to the viewpoint on the hill which sort of overlooks the town. Eventually found that I'd led us the wrong way. How strange! 😏. We walked back, but couldn't find any place to have lunch. Everywhere was full or closed. Presumably so the owners could get to the memorial service. Scamp got ten allium bulbs from the same shop we bought last year's bulbs from and they turned out so well. With that done we chose to drive to Brough to see if it was open today.
Brough wasn't nearly as big as Kirkby Stephen. It seemed to comprise of two streets at right angles to each other and a whole host of scarecrows. Lots of the houses had these, sometimes creepy, statues outside. We didn't stop, but we did find a sign pointing to Brough Castle which we'd visited many years ago. When we stopped there on the way home from a visit down south we had lunch at the tea shop there and today we were happy to see it was still there. There were loads of scarecrows in the surrounding streets too, but not as creepy as the ones in Brough. After coffee and a warm, but not hot, panini each we went for a walk round the castle. The views from it were excellent and all under a blue sky with bubbly clouds too. I took lots of photos and so did Scamp. We walked round the village next and took in the Scarecrow Festival, because that's what it was.
PoD was a view of Brough Castle with a few sheep and a horse to fill up that empty green space.
Jamie and Simonne were cooking tonight. Beetroot falafels with a green salad – we must try that.
Watched the strange new qualifying for F1 tonight understood it a bit more than last time.  Then we watched a few episodes of Spitting Image which was repeats on Britbox and therefore slightly out of sync with life in 2021, but still funny.
Tomorrow we may go for a longer walk along the viaduct path.