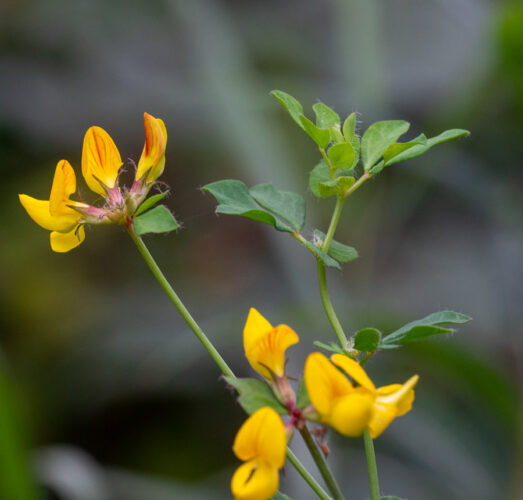 Not really a cycle run, more a bramble hunt.
In the morning Scamp went out to get something for tonight's dinner and came home with three Tesco bags full. While she was out I tried connecting the old Tamron zoom lens onto the Sony A7M2. I've made a few changes to some of the buttons and they make it easier to use the lens in manual mode. It does seem to work quite well as a manual lens now and to be honest the autofocus was never all that good. Just a pity the anti-shake doesn't work now, it was useful. I took some photos of Scamp's sweet peas in their wee jug that Hazy gave her and they looked quite good. Have a look on Flickr if you get a chance.
After lunch I pumped up the tyres on the Dewdrop and took it out for a short run down to an old path beside the railway where I knew I would get some brambles. Sure enough there were loads of them there and because it's only a path and about 100m from the road, the fruit would be free from the chemicals given out by the lorries and vans that clog that road. I found another patch on the way home and managed to come home with just over 700g of black berries that are now stored in the freezer.
While I was out Scamp had been making Viennese Fingers and part coating them in dark chocolate without burning her fingers, thanks to H&N's gift of a silicone jug. What clever folk they are. I've been stuffing my face with the little biscuits and can confirm that they taste as good as they look.
I was too busy picking brambles to take any photos today, so after changing out of my cycling gear I took the Sony A7 out with the macro lens attached and got some close-up shots in St Mo's. No insects today to photograph, but I did get a chance to practise my manual focus skills again and most of the shots looked ok.  It was a Birdsfoot Trefoil that got PoD manually focused of course.
I'd heard a strange engine note while I was messing around in the morning photographing posies of sweet peas.  After a bit of checking on Flightrader 24 it turned out to belong to a Spitfire a tandem trainer version which was built in 1945, making it five years older than me.  It seemed to be based for the last couple of days at Cumbernauld Airport.  I did think I might go up and see if I could get a few photos, but I'd promised to go and hunt some brambles for Scamp, but while I was out in St Mo's in the afternoon I caught a glimpse of the plane completing a half loop with a roll off the top, an Immelmann Turn.  Sounded wonderful.  May go and have a look for it tomorrow if it's still there.
Also tomorrow we may go somewhere interesting for a walk, because tomorrow may be us nearing the end of these balmy end of Summer days. Plus, it will be the first day of meteorological autumn.  Night's will be fair drawing in!