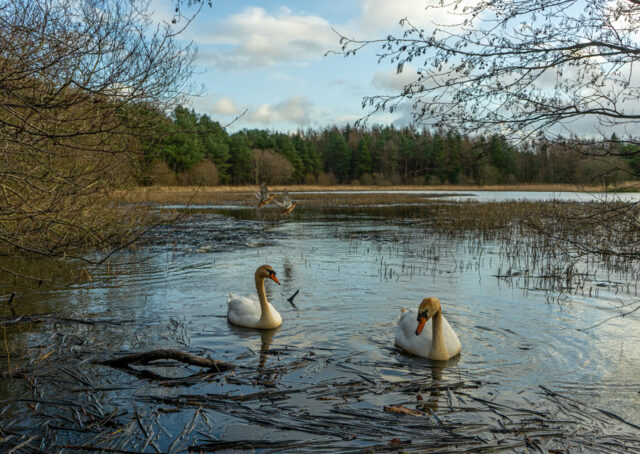 Rather late breaking the surface this morning, but the morning was good.
We'd both quite a lot to do today. Shona was coming to dinner. To that end, dinner would need to be made. I was doing the bread and the soup. Scamp was making the main and the pudding. I had the easier job of the two.
Firstly, the weather was fine, dry and bright, so we went for a walk round the pond at St Mo's. As is becoming traditional, Scamp went for one circuit and I stayed for two. On the second circuit I got a fairly decent shot of a couple of swans looking a bit more animated than is usual for swans. I also spooked a couple of mallards that flew off behind the swans. That picture made PoD and you can just see the two ducks above the swan on the left. Flickr gives a better view.
I got back home before Scamp and started on the bread dough. I was using a flour new to me called Half and Half. Half wholemeal and half whiter flours. It was a bit heavier to knead than plain flour, but was single source, both grains being ground at the same mill. I'm not sure that makes a difference, but provenance seems to be the fashionable thing to have these days.
With the dough in a bowl for its first proving, it was time for lunch. Next for me was to get the soup ready. It was 'Just Soup'. In other words, anything you can find in the fridge or the veg basket is fair game. Once I had it simmering away, I handed over to Scamp who was making the pastry for an apple pie, again using our apples. I'd hardly started getting the photos into Lightroom when I heard a wail of woe from the kitchen. It seemed the lid for the food processor had cracked almost completely round the rim, with just about 20mm worth holding together. I had a look at it and thought there was just enough strength in the clip to do the job today and after that we'd need to have a go at fixing it or buy a new one. The clip slides into a slot in the body which actuates the safety lock, allowing the motor to start. Indeed there was just enough strength in the clip to complete today's pastry mixing. Amazon, of course, has the replacement part. Until then, I think some carefully placed Araldite will keep it going.
So bread dough risen and in the 'beehive' prover, pastry chilling in the fridge and photos posted on Flickr, a message told us that our guest was on her way. Dinner was a bit later than we'd anticipated, but we did have time to blether away to Shona. We heard how Ben is away at his dad's this weekend and how things are progressing in the new house. Lots of things seem to need some snagging and some have already been done. All in all she's glad to be in a house of her own and not on the top floor of a block of flats. Dinner seemed to go well, despite being late and Scamp's chicken wrapped in pancetta was lovely. My bread was really too warm to cut and suffered for that. The soup needed salt according to Scamp, but neither Shona nor I were bothered. Pudding was beautiful. I hope there's some left for tomorrow.
Shona seemed to relax after dinner and we sat talking for quite a while. I'd imagined it would be difficult to get a taxi for her with it being just the day after New Year's Day, but she got one right away when she phoned.
After she left we watched another episode of Around the World in 80 Days. It's an old story, but well told. I think we both enjoyed it and relaxed for a while.
Just after dinner, Canute phoned to see how we were faring against Omicron. We already knew that their family had come down with it and I could hear the croak in his voice. It seems that Delia is feeling a bit better today as is he. They are still isolating though for their 7 days.
Before lunch today we had both taken a Lateral Flow test just to be sure that Shona would be safe from us, and she said tonight that she had done the same last night. It's amazing that we bandy the words 'Lateral Flow' about, but I have no idea what is flowing and what special significance 'lateral' has.
So a good day and a busy one, but we did manage a walk in the morning before the rain came late in the afternoon, and we were entertained by Shona's tales.
Tomorrow the weather is going to get colder with sub-zero temperatures predicted in the evening. Hopefully that will mean clear skies, but no guarantee. If it's dry we'll be walking.