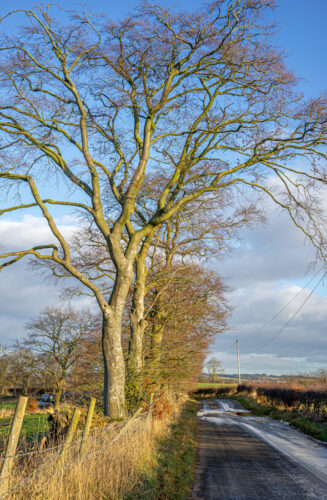 Another day to stay at home if you've any sense.
I went out, of course. First I decided to wait in for the DPD man to come and pick up the Oly M1 Mk2. He arrived right on time. I handed over the parcel and he handed me the red receipt tag. With that done and dusted, had a look at the recipe I'd settled on making for dinner. It was Wednesday and Wednesday is Fish Day. I'd chosen to make Cod and Paprika Chowder. A lovely warm thick soup with chunks of fish in it. It used to be one of my favourite meals, but it has been a loooong time since I've made it. A quick read and it all came back.
I had stayed in all morning, but in the afternoon I was getting cabin fever, so I wrapped up warm, got in the car and drove over to Currys at Coatbridge to buy some photo paper. I did need the paper, but it was also a bit of an excuse to go out somewhere that wasn't Cumbersheugh.
Beautiful day for a drive, just as long as you didn't want to get out of the car. It was rather cold, even wrapped up as I was. I got the paper and chose a different route home. I'd gone by the straight road. I came home by the twisty minor roads. Much more fun to drive on, especially on a clear day like today. I stopped just above Condorrat by an avenue of beech tree and took a few shots. My favourites were one of the trees and another looking over the fields to the Campsie Fells. The trees got PoD, but the other is also on Flickr.
Back home and with some time until dinner needed to be ready, I started printing the photos for the calendars. That's when things started to go wrong. The printer would only print one sheet at a time, then it spat out a blank page before shutting down. I tried everything I could think of. It's a good printer that uses ink reservoirs that you fill up about once a year or sometimes once every two years! I checked the tanks and they were all 3/4 full, so not that. The printing format was right and the quality setting hadn't been changed for ages. Eventually I downloaded an update. Epson updates take ages to install and really screw everything up. This one didn't do anything other than remove all my custom printing settings. Eventually I did what it said on the FAQ and switched off a page setting. Lo and Behold, it worked. I'd printed two calendars by the the time to start dinner.
While I was swearing at the printer, Scamp was looking through old music books. She even found an old Watt Nicoll book of mine that I'd been looking for for months. Great memories in that collection of old books.
I made the dinner while Scamp played the piano. It started off with serious classical stuff, then segued into blues and jazz. Nice relaxing music to cook by. I really enjoy listening to her play. She makes it all seem so easy, but I know it's not.
I found some old photos going back to 2003 in a folder. Tomorrow I intend putting them all on to the NAS. Not sure what would be the best way. I may have to do some bedtime reading!
Tomorrow we have no real plans. It looks like we may get some snow, but not until the evening (I hope).