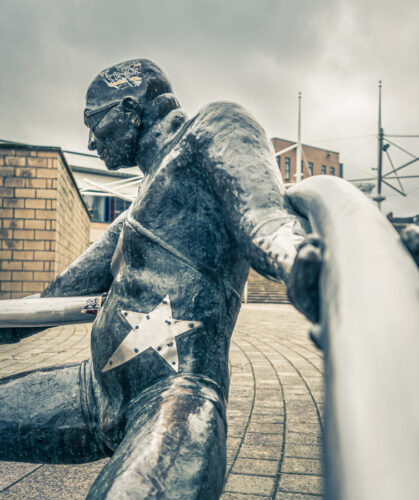 Today Alex and I went for a walk in a park.
Drove to Motherwell to pick Alex up, then we drove to Hamilton and parked at the retail park. I'd hoped to get some photos of the mausoleum, but it was still covered in scaffolding, so we found our way to my second choice which was the Keith's building. It's a red sandstone five storey building in a state of severe disrepair. From street level it looks like an old boarded up shop, but if you see it from below in Cadzow Glen, it looks completely different. It's grade A listed, so it can't be demolished, but it really needs a lot of TLC to bring it back to some semblance of its former glory. We took a few photos of it from the glen, and even risked the dodgy looking stairs that lead to a high level balcony. Then we followed the Cadzow Burn up the glen to a waterfall and took another few photos there. You just can't stop photogs taking photos of waterfalls.
Time was getting on and I knew there was a time limit for parking at the retail park, so we headed back through the maze of streets behind Cadzow Street and down to the car, stopping to photograph the 'man with the rope'. Then we drove up to Chatelherault for a coffee and a seat. That's when I sprung my surprise. I got a new camera yesterday. In case anyone is interested, it's a Sony A7iii. It replaces the A7ii and is a far more complicated model than its older brother. Lots of bells and whistles, all explained in its 666 page manual. This was its first real outing taking photos instead of being tested. I was impressed. I think Alex was too.
Dropped him off at the house and came home. Lunch had been a scone with butter 'n' jam, so I was ready for dinner which was a new version of Scamp's Macaroni and Cheese. Just a few tweaks with the sauce and the bacon made it a totally new dish. I think I like the new version better than the old one. In fact I liked it so much I forgot to put some tomato or brown sauce on it! Maybe next time.
That was about it for today. I believe there are plans for shopping tomorrow.