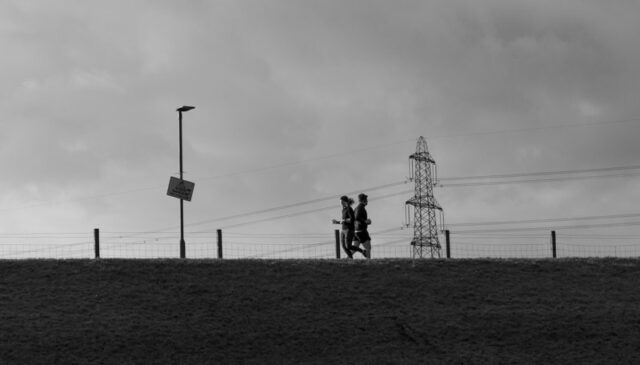 A day when some people make resolutions they have no intention of keeping. I'll cut out the middle man by not making any resolutions in the first place.
The day dawned quite bright then lost some of its early brightness. But then, surprise surprise, the brightness returned. Would we? Wouldn't we go out for a walk? I said wait and see if it lasts, Scamp prowled round the living room like a caged beast and I eventually gave in and put my boots on. The irresistible force always beats the immovable object.
We walked over towards Broadwood Loch where we played our usual game of each taking turns at choosing a direction to go when there was an actual choice. Scamp chose first and her's was an easy choice. Right would have meant a short walk and we weren't doing short walks today because the sun was still shining and the day looked set for fair. Left it was and all the way along the side of the loch. She cheated a bit and made the second choice for me by declaring that the winding path through the woods would probably be waterlogged today, so we went right and around to the other side of the loch. I got the feeling that clockwise was the wrong way today as everyone seemed to be meeting us face on, rather than overtaking us, or us overtaking them. However, there are no rules at Broadwood, so we marched on. My choice next was a left turn to extend the walk past the exercise machines and a joint decision for the last choice was to go right and pass between the stadium and the BMX track and from there the decisions were made for us to find our way home.
All in all, it was about 4 miles of undulating track with some chances for photos. My favourite, and PoD was two joggers crossing paths over Broadwood Dam. I reduced it to mono because there was very little colour in it.
Spoke to Hazy in the afternoon and heard how her med reduction is going  and also how others in the family are fairing in these Omicron days, and how percieved protections aren't to be relied upon!  Speaking about Omicron, I noticed a pair of Omnicron sunglasses for sale in Boots the other week.  They were reduced.  I'd imagine they weren't selling all that well, even with that extra 'n' in their name!
Posh dinner tonight with three courses seated at the table. Starter was Prawn Cocktail. Main was Trout Fillet and sweetcorn for Scamp, Rump Steak and mushrooms for me. Both served with roast potatoes. I pan fried my steak in the fancy grill pan that gets blindingly hot if you don't use the silicone handles which Scamp forgot to put on before she moved it, resulting in an ice pack for her right index finger and thumb. It meant I had to do the serving or the Apple Crumble with Custard for pudding. Scamp had made it with our the last of our own apples that had been in the freezer since early autumn. They tasted just as good as fresh ones.
Scamp managed to elicit sympathy at every possible juncture tonight and I have to admit it was a good act. Let's hope the burn is healing by tomorrow.
Tomorrow, we have no real plans, but the temperature is set to take a drop over this coming week, so we might manage another walk if it stays dry. Possibly having Shona over for dinner.