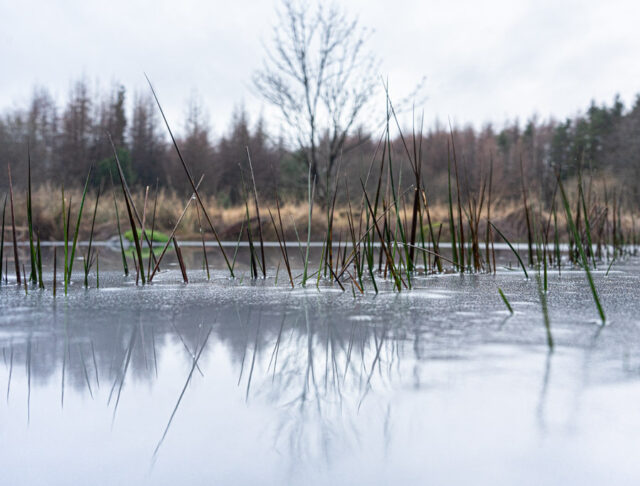 It was a day for getting your hands dirty.
I'd bought 500g of steak mince on Friday and had already made a mince pie with half of it. The other half was destined to languish in the freezer until it was old and grey, or be made into burgers today. That rhymed, but it was an accident! Better a burger than an old grey mince ball.
I put the mince into a bowl, and since it was fresh meat, I thought it deserved fresh herbs, so I ventured into the swamp that is the back garden and cut and chopped some Sage, Rosemary and Thyme. If I'd thought about it I'd have added some Parsley for obvious reasons. Added an egg to bind it (that could be a canticle line, couldn't it) and some salt and pepper. Then it was time to get my hands dirty and massage the whole thing into a not too sticky ball that was cut into two then the balls were flattened to make rough burger shapes. One did go in the freezer, but it won't last long in there, the other went into the fridge to chill.
Lunch time beckoned and it was an omelette for me and a slice of black pudding with some fried potatoes on the side. Was I really going to have room for dinner tonight, I asked myself? Yes, of course I would, just as long as I didn't eat all of the omelette. For once I took my own advice. We watched and criticised the new Sunday morning politics show that's being fronted by Sophie Raworth. Too many interruptions said Scamp.
I was just finishing off an epistle to Alex when I looked out the back window and saw a rainbow spread across the sky where there had only been grey clouds when I had started. Even better, there was sunshine too. Closed the laptop, (sorry Alex) and put on my boots and jacket and lugged a Sony A7 across to St Mo's. Found some swans swimming in a vague line along the side of the pond and thought that might be PoD. Then I took the camera up to the small pond which was covered in ice and the ice was covered in water. I took a £1000+ camera and lens. Placed them gingerly on the wet ice of a pond. Gently pressed the shutter button. Didn't breathe, but with my heart in my mouth whipped the camera away before the ice changed its mind. One look at the camera screen convinced me that I'd a PoD.
Walked home where I finished the email to Alex and gave him the first look at the PoD. Then it was time to cook the burger. Almost 15 minutes, 7min and a bit on each side then a resting time of about 10min while we had thin Sourdough toast and paté as a starter. Scamp had Roasted Cauliflower with Roasted Baby Tomatoes and I had a Handmade Burger with potatoes. Pudding was a Christmas Pudding with Posh Madagascar Custard. Actually, the Christmas Pudding and Posh Custard was the winner for both of us.
We rested for a while after that and coffee, then spoke to Jamie and found out about Fences, Water Softeners and Gardiners.
Finally finished the Hidden Palace, Hazel. Beautifully written book. I think I now need to read book 1 again to remind myself how all this came to pass. I do hope there is a book 3.
Tomorrow we may go out for a spin. I need to put some expensive alcohol in the Blue Car's tank. I think Vodka would be cheaper than petrol, these days. <Thinks, can you run a petrol car on vodka?>