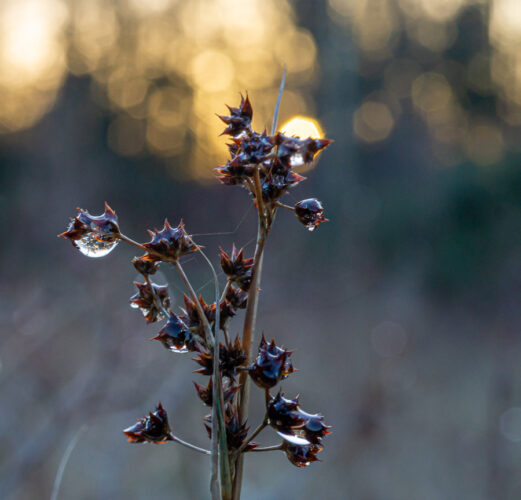 Some folk have Jack Frost, but my mum always called him Johnny Frosty, pronounced "Joanny Froasty"
Joanny Froasty definitely was about this morning. He'd been up early to cover the cars with a crisp white coating. The temperature was still sub-zero when Scamp went to make breakfast. It was her turn. We chose not to rush to get up because it was warm in bed and we both had good books to read. Let those who wanted to go to work, go. We'd stay and mind the house.
We did eventually get up and since it was such a lovely crisp morning, I suggested a walk. Maybe just a short one around St Mo's pond. Scamp wasn't sure. She's not too keen on walking when it's icy and we were pretty sure it was going to be icy. It was. We had to walk on the grass most of the way over to the park and then again on the grass until we were up the hill and under the cover of the trees where there isn't ever much standing water to turn into ice. The rest of the fairly recently laid tarmac was an ice rink. A sloping ice rink that threatened to slide you down into the pond itself. Luckily the grass was still boggy and gave a better grip. Next time, if it's still icy, we'll dig out the Yak Trax. I was just reading last years blog yesterday about how we could crunch across the icy paths with these steel shod feet. What clever folk Mr Yak and Mrs Trax were.
I took some photos as we walked round the pond and they looked good on the camera screen, so I was content to limit our walk to just the one circuit. Scamp agreed and we walked back, sticking to the grass where we could.
After lunch it was time to take down the decorations, the cards and the tree. Now they are all bagged and boxed and waiting for me to put them in the loft until next year. The place did look a bit bare, but not for long.
I wasn't impressed with the photos taken in St Mo's once I'd downloaded them from the camera and decided there was just enough time to grab some more before the sun set. It was much colder than when we had our walk this morning. The sun was low now and not nearly as warming as it had been, however I did get some shots I liked and was heading home when I saw three different skeins of geese all travelling west. Probably heading for a grassy field not far away which seems to support many groups of geese on their journey south. It's great to watch these flights of birds and even better to listen to them calling to each other. I often wonder what they are saying. But the cold was beginning to bite now and I headed home.
These photos were much better and I actually got three good enough to go on Flickr. My favourite, and PoD was the one you see here of the weed with the ice melt forming balls of water, with setting sun behind them.
My next task was to find out how much MPB would give me for my hardly used Oly E-M1 Mk2. The good thing about selling through them is that you get an instant quote, based on your estimated condition for the camera. I was happy with the quoted price and downloaded the form which never prints properly the first time. I finally got it printed, filled in and signed. Then I had to find all the bits and pieces that had to go in the box along with the camera. With it all boxed up it was time for dinner. Scamp was making a J&S speciality, Bacon and Borlotti Beans. Great recipe, beautifully cooked.
Last thing to do was to wrap up the parcel to be uplifted by DPD tomorrow. I was a wee bit sad to be sending that lovely camera away, but I hadn't used it for months and it seemed a shame to just have it sitting there when I could get some money from it. Of course I have a way for that money to go!
Tomorrow I'd like to get some photo paper and we need a wall calendar too. Scamp has volunteered to wait in for the parcel.