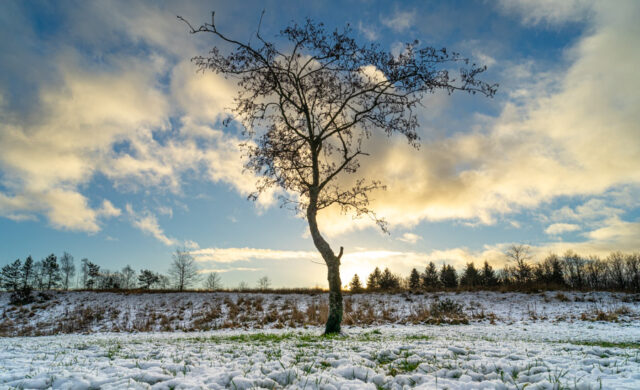 When we woke, the land had been changed overnight.
Everywhere was blanketed in snow and there was even some more of the white stuff fluttering down from the clouds, but the sun was shining so it wasn't all bad.
I put my boots on and went out early because the temperature was rising and there was water dripping from the tree in the garden. Not a second to waste if I was going to get the best snowy pictures today. The roads looked a bit slippery, so I decided I'd walk over to St Mo's rather than driving much further. Surprisingly, with the schools still on holiday and a fair fall of snow on the ground, there were no sledges or sledgers to be seen. A sign of the times. In my day we couldn't wait to get out there and freeze our extremities with sledging and snowball fights.
I didn't have time for snowball fights. I was toting the A6000 with a macro lens and the A7 with an 18mm wide angle. One in each jacket pocket. First real target was a rosehip cluster on a bush just past the carpark. That got something worthwhile in the bag. Next was the lone tree in St Mo's. Looking very elegant with a dusting of snow still clinging to its branches and a crow up near the top. I expected the bird to fly off as I got closer and closer, taking shots all the time. It never moved, almost daring me to come closer. I gave in eventually and let it win the standoff this time. Down on the boardwalk there were more photos to take of snowy footprints, but I was sure one of the tree shots would get PoD. I walked round the pond twice, taking pot shots all the time, but not really being satisfied with anything. Eventually I'd had enough and went home to get warm.
A cup of coffee soon warmed me up, and after lunch the postman came with some Christmas cards, delivered almost a month past their posting date. Also two letters for Scamp which apparently showed that the date for her op had been put back a day. That meant the op was now set for a Friday and we knew that the surgeon didn't work on a Friday. She struggled through the maze of "Press 1 for blah. Press 2 for blah blah, etc. After waiting for about fifteen minutes, she finally got through to a human who told her that yes, the date on the letter was correct, but said she'd transfer her to the Eye Clinic, then cut her off. I found the phone number for the Eye Clinic and Scamp phoned it and spoke to someone who explained that the date on the letter was for a post-op check and that she was scheduled for the op on the Thursday with the surgeon we'd met back in December.
All was well, so to allow her to cool down, I went for a walk over to Condorrat to get some mince and potatoes for dinner. I also managed ten minutes in St Mo's first. That's where the real PoD came from. Happier with it than with any of the other shots.
Got instruction when I got back on how to build a mince pie the way my mum used to make it. It wasn't nearly as good as my mum's, and nowhere as good as Scamp's, but it worked and surprisingly I don't feel any reflux effects from it … so far.
Watched a film recommended by Hazy, 'Judy', about Judy Garland. If half of it was true, it must have been a terrifying childhood. You don't realise just how lucky you are sometimes. After that we watched a Monty Don program about gardens in Venice. It was just like being there. Unfortunately, when we looked out the window afterwards, it wasn't the Grand Canal we saw, but a garden with half melted snow that looked like it was beginning to freeze. Oh well!
Tomorrow looks like the thaw will start. Let's hope it clears the snow away and we get out somewhere, anywhere.