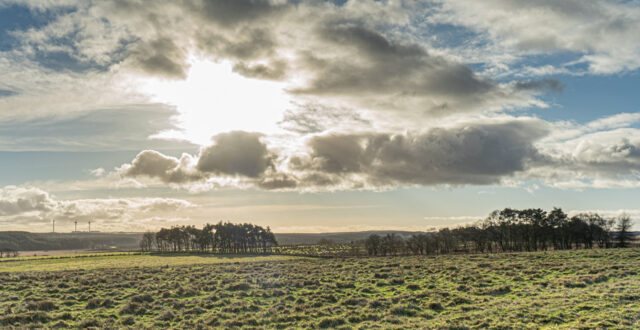 Out for coffee and a blether with Val.
As usual, Val was sitting there waiting for me when I arrived dead on 11am. It had been a beautiful morning with a sky that started off blue overhead and changed to a lovely warm pink over the hills, with the retiring moon sitting above the houses, away to the west. Of course I just had to open the back window to take a photo … or four.
We had coffee and a panettone each and sat discussing the world, food and technology for an hour and a half. The time just seemed to fly past and then Val had to go for a walk to prevent his legs from seizing up and I went to take some photos up on Fannyside. It's a great place on a good day with views over the local countryside to the south and the chance to watch the cloud shadows over the Campsies to the north. The south view won today and that's where today's PoD came from. A herd of curly haired sheep mainly brown, but some black. Possibly a ram in with them, but that was a guess because they were hiding among the Scots Pine trees and some were so hungry they were eating the bark!
Drove home and had lunch then Scamp continued with the work she'd been doing in the morning. Dusting is not my favourite task, but I felt shamed into helping because the sun shining brightly in the front windows seemed to highlight all the dust sitting on any flat surface. I took the big bookcase behind my chair as my target for the day. I tried dusting the top shelf without moving the books, but it was impossible, so I removed all the books and put them in piles on the table. In between the bigger books I found a map and pictures of Venice my dad had brought or sent back from Italy during WW2. I remember him taking the book out of the bureau and showing us the map of the islands and pointing out where his billet was. There it was on the back page, neatly printed with an arrow to show where it was. It's very fragile now and I might scan the pictures for posterity, but it's folded up again and back in its place in the bookcase. If I hadn't been so determined to dust the shelf properly today, I'd never have found it. I thought it was lost for good.
The wifi disappeared again tonight for a couple of hours. It seems that there are a few problems with both TV and broadband signals in the area.
It was cold today, but the bright sun made it feel warmer than it was. Hoping for the same weather tomorrow. We may go out somewhere for lunch.