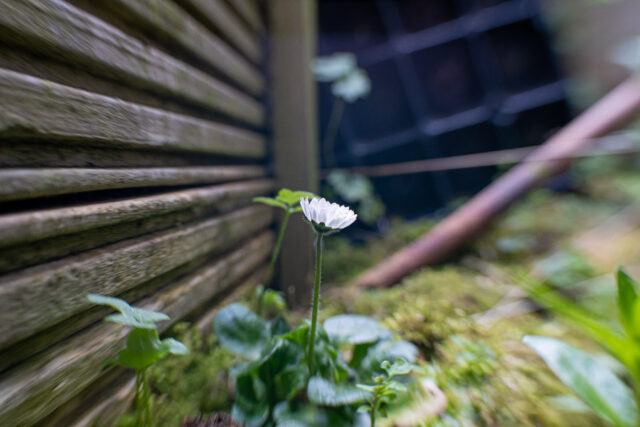 Scamp wanted to get the grass cut before the rains came. I wanted to plant some seeds.
Before that, Scamp started off de-icing the freezer. It's a thankless task, so we split the job between us. Scamp started with a scraper tool and bowls of hot water to start the thaw and I took over with an assortment of kitchen tools plus knives and scrapers from my art supplies. Between us we got the job done fairly quickly.
Lunch was next and after that we started on the gardening. After a lot of huffing and puffing, we did manage to get both of these tasks completed, although I must admit that Scamp's was by far the more energy sapping of the two. She cut the front grass, strimmed the edges and used her mighty blower to get rid of the loose cuttings. I attempted to dig into the skim of soil that covers a pile of rubble at the end of the garden and planted a row of Ammi majus, the cow parsley look-alike next to the old buddleia just to see if it would grow in such poor soil. Then I planted some Ambassador peas in a tray in the greenhouse and also a line of four of the same peas in the raised bed.
As I was working round the raised bed I saw a little daisy flower sitting in the shade with its flower head in the sun. That seemed like a good subject for the new Lensbaby Sweet 35 optic. It turned out so good, it made PoD.
While Scamp rested her back, I walked mine over to St Mo's and got a few more with the Sweet 35. It seems a bit more extreme than the Sweet 50. The distortion is much more pronounced, which was the reason I bought it in the first place.
I was having the Lamb Flank Parcel I'd bought yesterday, for my dinner and Scamp was having a chicken pastie. Both with potatoes and carrots. Her's seemed fine, but my lamb was fatty and probably undercooked. An hour and a half roasting in the oven at Gas 5 is nowhere nearly enough. Just a note to self for when I get round to cooking the other one that's now in the much cleaner freezer. The other note to self is not to buy Salt & Chilli Wings from Tesco. Took far longer than the stated time and didn't look anything like wings. Not a good impulse buy. Scamp had made a fruit salad for dessert with apples, oranges and pineapple, plus a tablespoon of Cointreau. Again, not nearly enough Cointreau, but a refreshing end to the meal.
Spoke to Jamie for a while over a very dodgy WiFi connection. Good to see them getting a bit of 'me time', or is that 'us time'? Doing a bit of walking in the Lake District. Heard about plans for the future.
That was about it, except about fifteen minutes ago a tiny little tick appeared on my wrist, just crawling out from under my watch strap. It was quickly despatched before it could get stuck into my heavily medicated blood. First one I've seen for ages. On the subject of 'first one I've seen for ages', yesterday I saw my first swallow this year. They do say that one swallow doesn't make a summer, but I saw three. Does that make a summer then?
Maybe going looking for a pair of good sturdy brogues tomorrow as an alternative to kilt shoes. Dark brown for preference, although my fashion guru says that won't go with the rest of the outfit.