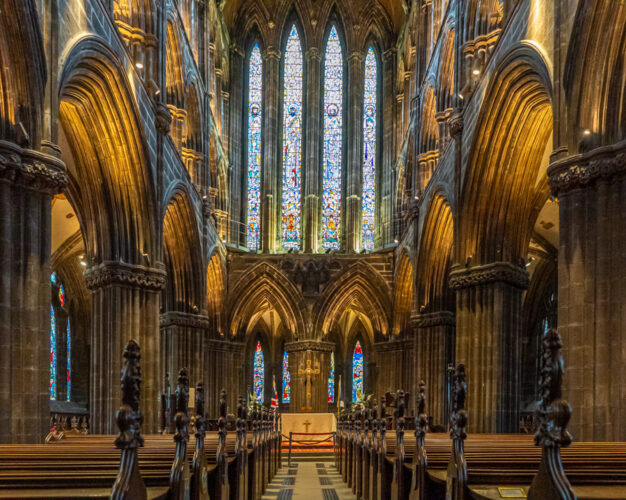 Meeting my brother for a walk around Glasgow.
This time we were heading for Glasgow Cathedral to see what difference there was between it and Paisley Abbey. Both of them are really big, grand buildings. I'd imagine that the cathedral is bigger than the abbey and I thought it would be grander, but the stonework was quite dark by comparison with Paisley. Balancing that was the total amount of rooms and the different areas, including the basement rooms. Of the two, I preferred the Paisley Abbey. However, a shot of the Cathedral made PoD.
We tried to find somewhere near the cathedral to get a cup of coffee, but the clumsily named St Mungo Museum of Religious Life and Art was closed as was a cafe on the other side of the nearby Glasgow Royal Infirmary, so we walked back to Glasgow City, in the rain.
We finally settled on a roll each and a bottle of juice from Greggs and ate our lunch in George Square, surrounded by pigeons keen to remove any crumbs. They also scoffed bits of chicken that Alex dropped. I tried to explain to them that was cannibalism, but my protestations fell on deaf pigeon ears. I must admit it was good to sit and eat our lunch in the open air and in the sunshine, even with the pigeons.
We took a walk down Queen Street to get some photos at the GOMA. Then we walked down to Cafe Nero in St Enoch's and finally had that coffee. I had a flapjack, but I think my brother maybe later regretted his Raspberry and White Chocolate Chouxnut. I do hope you were ready for your dinner Alex.
We walked around St Enoch's taking a few shots in the late afternoon light before heading for the bus station and home. A good day. It was the first test for the 'new toy', the Tenba camera bag. It performed well with a fairly full set of camera gear. Heavy, but not uncomfortably so. Still to test the new Lensbaby Sweet 35 optic. Maybe tomorrow. Also I got a shot of Alex's new 85mm f1.8 lens. It may go on the shopping list.
Tomorrow we'll probably be doing a bit of dancing in Bridge of Weir, but the rest of the day is our own.