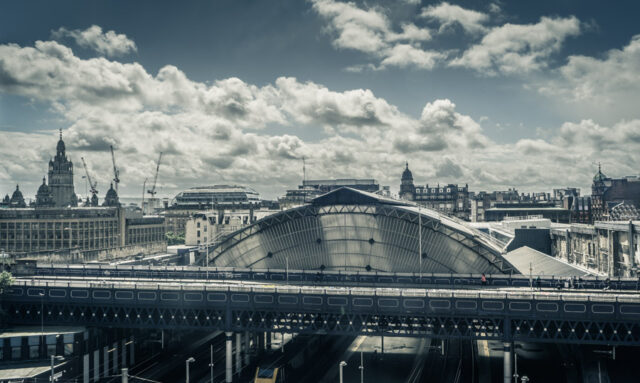 We were going in to Glasgow today to get me a pair of sensible shoes. They would make a change from the black Ghillie brogues I have just now. The brogues themselves are actually quite comfortable, but the long laces criss-crossing the knee length kilt socks are awkward things to tie and uncomfortable after a while. I thought I'd try a pair of brown brogues instead. The first shop I tried had a pair that seemed to be what I was looking for. Foolishly I didn't try them on, but went looking to see if there was anything else in a similar style.
There were loads of shoes in a similar style, but none that caught my eye. One pair looked the part, but when I tried them on, there was something just not right about them. Scamp noticed the creases in the leather that showed that they have been tried at home and returned as not suitable. They weren't suitable for me either. There were brogues in dark brown, tan and even yellow. Brogues made from leather with tartan patches, some with tweed patches. Some were definitely meant for tramping the peat bogs of Wester Ross, weighing in at about a hundredweight each and others so thin you could spit peas through them. M&S had a great selection in every size under the sun … except mine. Eventually, after a coffee and a croissant in Nero I made my decision to go back to the first shop and try on that pair. They fitted perfectly. The looked like I wanted them to look. They were solid without being too clumpy. I bought them. The assistant wanted to put them in a machine that would spray them with some undisclosed liquid that would make them waterproof, stain-resistant, crease resistant and self ironing. She seemed quite disappointed when I said I'd polish them myself with shoe polish.
We drove home after Scamp had picked some cosmetics to make her look even more beautiful than she already is, if that's possible. On the way to the car I grabbed a couple of photos from the JL bridge. One of them became PoD after some gentle toning and tweaking in Lightroom.
Lunch was a piece 'n' banana. Fresh bread and a banana. The only thing that would make it better was a sprinkling of sugar, but I decided to forego that pleasure. Sometimes you can have too much of a good thing. I took a walk over St Mo's later, but there wasn't much to see although I did get one decent photo which is on Flickr.
Scamp was off to choir tonight, so I was going to be a salsa helper all by myself. The class was much the same as last week. We went over the same moves as last week and then Jamie added in Damé then, just for the hell of it, Damé Dos. It's about a level 3 move, but the folk all enjoyed it. Really, it could have been carnage, but it didn't. Great fun.
When I got home and pressed the button to stop the engine, all the lights in the car went out and it wouldn't start again. The car wouldn't lock and the boot wouldn't open. Inside my car's key fob there is a hidden key. I used it to lock, then unlock the car. Then I started it as normal, well nearly normal. It appears that the trip mileage had been reset and also the mpg was reset. The second time this has happened in the last couple of weeks. I'm taking it to the garage tomorrow.
Tomorrow, apart from a trip to Stirling we're both hoping to go for coffee. Me with Val and Scamp with Isobel.