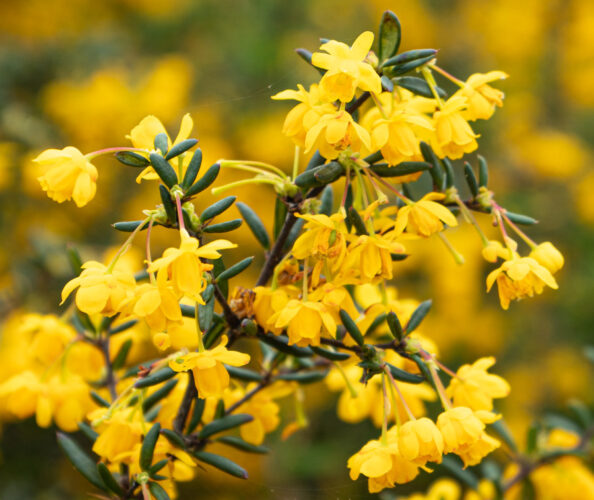 Some days are full of surprises and exciting challenges and some are like today.
The high point of the day was walking down to the shops to get potatoes, pineapple chunks, apples and oranges, then walking back. It was a dull day with occasional glimpses of sunshine, but only glimpses. It threatened rain for a while, but it seemed that even the clouds were having a lazy day and couldn't be bothered to do the actual raining.
On the way back from the shops, the walk was brightened by a bush of little yellow flowers, masses of them making the whole bush glow. I always carry a camera these days and today was no exception, so the little yellow flowers became PoD. The photo doesn't really do them justice.
We got a text from Jamie to say that he'd arrived home safely from his transatlantic trip. I'm guessing he was having a relaxing day too.
Dinner for me was a Lamb Truffle and Scamp's was a Chicken Orchid which looked very pretty. I think I preferred mine because Scamp's we agreed was quite dry inside and a touch salty. Mine was solid meat with a fair amount of wild garlic I think. Both served with Jersey Royal potatoes and cabbage. In retrospect, maybe dinner was the high point of the day.
We watched the second last episode of The Split and sat talking about it for about an hour afterwards, discussing what the final episode would bring.
Tomorrow two parcels are due to be delivered. Hopefully that will make it more exciting than today.