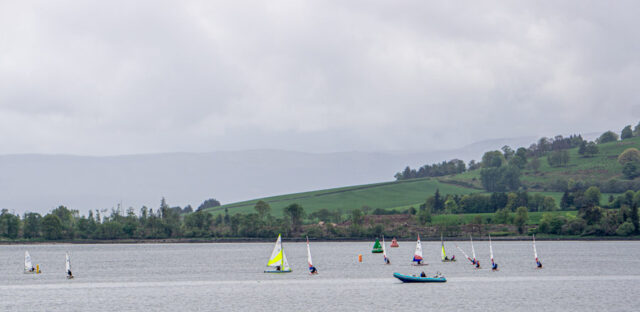 That was the day in three words. Sorry about the last sweary word, Jamie!
Drove to Brookfield today and found that instead of the quickstep we'd been practising, we were dancing a Foxtrot, a Tango Serida, a <spit> Cha-Cha, a 'Baby' Waltz and as many sequence dances as they could cram in. I actually enjoyed the Foxtrot. Quite an elegant dance. The tango serida was just a bit of meaningless fluff. Instantly forgettable. The cha-cha I almost managed and the 'baby' waltz is just a waltz we've been messing about with for weeks now. Could be useful for dances if nobody knows what it should REALLY look like! Thankfully there weren't too many sequence dances to fit in as time was tight. All in all, not as bad as it could have been.
<Warning DON'T read this Jamie>
It had been a 20mph drag getting through the roadworks on the M8 this morning and I'd no intention of facing them again on the way back, so I suggested we go for a drive to Helensburgh. When we got there, OH NO! The carpark was gone. The big carpark with a million space and no charge for parking was gone. In its place was a steel and glass featureless lump. Apparently it is a Leisure Centre. A Leisure Centre in Helensburgh is a bit pointless. Most of the inhabitants are well over 80 and the rest are sailors who work at the naval base a few miles up the estuary and who have their own free (I guess) leisure centre at the base. Finally found a place to park, and had to pay! For the first time in Helensburgh, we had to pay! What is the world coming to. Even worse, the pizza shop was closed. We walked along the esplanade and I took a few photos of wee dinghies sailing and trying to race in an almost complete calm. Had a coffee and a panini each in a busy little Costa off the main road. Scamp found another clothes shop and bought a dress. Further on she found a matching fascinator that didn't look like a black widow spider! My purchases of the day were a few slices of black pudding, two lamb and sausage meat patties and two Italian sausages that smelled strongly of garlic. We drove back home with out touching the roadworks on the M8.
<OK Jamie. It's safe to come back>
That was about it for the day. A photo of the wee dinghies trying to race became PoD. Dinner was Chicken Pasta in a Tomato Ragu. More a Monday dinner than a Saturday, but it filled a wee space.
Tomorrow I must go out and take some meaningful photos. I just feel I'm treading water these days and need to get out and take photos of things that interest me. Also I really need to do something about my phone. It's beginning to fail in quite a few ways. Any suggestions or recommendations would be welcome.