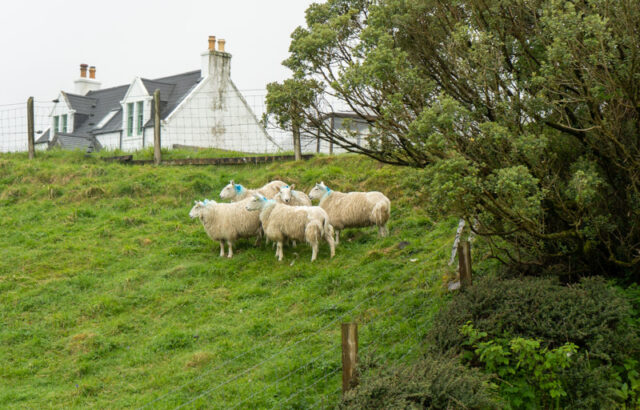 … the night before.
This was going to be a day of recovery. Recovery from too much to drink, from too much food and from too much dancing in new shoes.
We didn't break surface until after 9am. Tea in bed with a good book. Then after that and after showering away yesterday's excesses, breakfast proper. A look out the window confirmed our suspicions that there wouldn't be much sunshine today. There would, however be a lot of rain.
Scamp went next door to speak to her sister and to see how she and Ian were getting on. She had walked much further than I had. I didn't even pass the threshold. I took today's PoD from the open kitchen window.
I did, however, have to go to the door in the afternoon when an american lady decided she'd just drop in to see us. I don't know who she was or what she thought she was doing, but she soon got as far as the front hall before she got the "bum's rush". She allegedly thought this was a B&B and her husband wanted to use our 'rest room'. I told her very little, and directed her to the house at the end of the drive. I know there is a sort of open door policy in the Highlands and Islands, but it's strictly for locals, not for americans wanting to use our facilities. Anyway, we don't have a room to rest in.
The rest of the day was without incident, but with a lot more rain. It was fish and chips for dinner. Both of which were cooked in the oven. Not an exceptional meal, but after yesterday's excesses, something more grounded was required today.
Watched the Spanish GP, a boring race with little to recommend it.
Tomorrow we're invited to dinner at Columba. A family dinner.