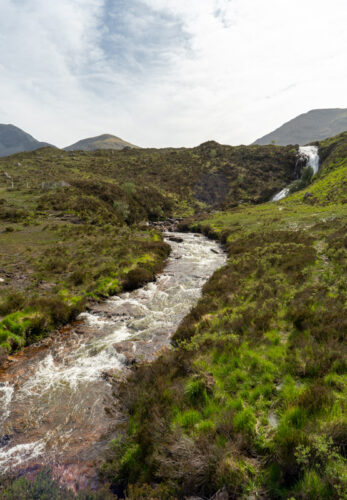 There's not much you can say about driving 250ish miles with a couple of stops.
Actually it was a fairly pleasant drive up through the west highlands to Fort William where we stopped for lunch and essentials like beer, wine and prosecco, and also to take on some really expensive petrol. Not the most expensive petrol we saw, because further on in our journey at Loch Cluanie we found an out of the way hotel with petrol on sale for £1.99 per litre!
We passed Eilean Donan Castle, but didn't stop although a lot of folk did pause to photograph the biscuit tin castle that isn't nearly as old as it looks. No, we went on over the bridge which has lost some of its elegance with a new conveyer belt stretching out to a deep water mooring for ships to take on what looks like gravel from an excavation. Such a pity. I'd still photograph it if the light was right and then just photoshop out the offending structure. We made our second stop near Loch Ainort to photograph the falls. They weren't as impressive as they sometimes are, but it wasn't raining and there was the opportunity to get the camera out of the bag and I wasn't going to pass up on the chance! It's a long time, and many cameras ago, since I last took pictures of them. That became PoD.
We didn't bother to stop in Portree, but carried on to Digg and pulled up at Jackie and Murdo's house around 5.30pm. Not a bad time after leaving home about 10.45am. A cup of coffee in the house and time for Scamp and her sister to catch up on preparations for Jaki's wedding. Just a quick stop to break our journey before we drove to the cottage. Our holiday home for a week.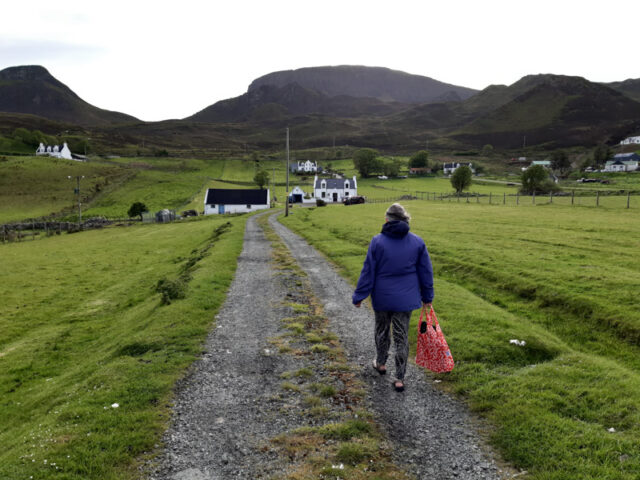 Just had time to start unpacking all those bags and then we walked down to J&M's, which is barely 200m from the cottage, for dinner. After dinner and after Murdo had shooed off his brother and his sister in law, we sat in the living room, me with a glass of very nice Johnnie Walker Black Label and Scamp and sister with a G 'n' T, while Murdo took up station in the kitchen watching Rangers ultimately lose the championship 5-4 on penalties. Such a terrible way to lose. We spoke to Mairi later and she had us in stitches with her stories of the bride and the bridesmaids antics getting a spray tan for the wedding. A spray tan in Skye?
We left later and made our way back to the cottage, were I'm writing this.
Tomorrow we may make our usual journey round the top of the island and down to Portree. The big city!