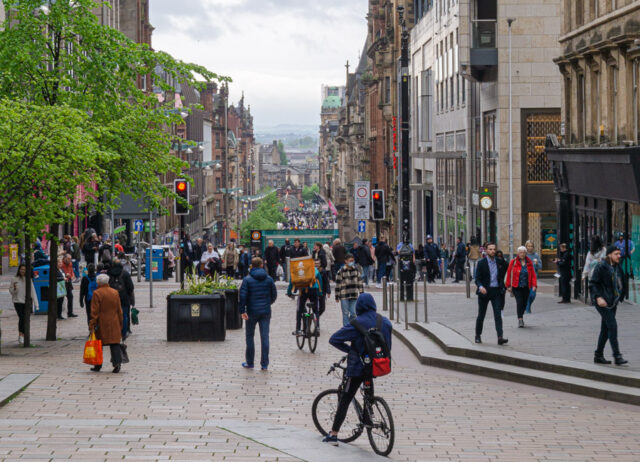 Things getting delivered, things to be collected, people to see and hair to be cut, but not in that order.
A message in the morning to say that my camera bag was at WEX in Glasgow and ready to collect. That's exactly when it should have been ready. One of the good things about dealing with WEX is that you can have your items delivered from Norwich to their Glasgow shop in a couple of days, free and usually on time. I had a little Lensbaby lens on order too, but it was to come to the house by the despicable Parcel Force. Due to be delivered tomorrow, but realistically by Monday. That's why I was surprised when I checked their delivery page to find it too was to arrive today. Unfortunately it was to arrive between 2.30 and 3.30 when I should have been visiting Margie with Scamp. The last thing on today's list was a haircut ready for a couple of weddings that are in the offing. Would I manage to fit them all into my day? Read on and find out!
Drove in to Glasgow in the morning, before I'd even had my coffee. Parked at Buchanan Galleries, right in the middle of town and walked to the barbers and was out of there half an hour later. Fifteen minutes for the bloke in front of me and fifteen minutes for me. Only one barber in today. Much tidier cut than I can manage, even with some help from Scamp. Walked up Bath Street to find the new WEX shop. I started at about number 10 and the shop was at number 240! So it was going to take a bit of time. Finally climbed the hill and down the other side was the WEX sign on a shiny new shopfront. Picked up the bag and told the blokes behind the till the story of the last bag with its extra item for the 'Babe'. It gave them a laugh and they immediately guessed the unnamed retailer was Amazon.
Walked back up the hill and down the other side, stopping to take a shot looking down Bucky Street from the Concert Hall to St Enoch's at the bottom. PoD was in the bag.
Drove out of the car park listening to Alan Cumming reading Baggage. I pressed the phone button on the steering wheel to tell Scamp I was on the way home. Selected Scamp from the list and the screen went blank. Remember I was still driving. Tried to play Alan again, but nothing happened, although the screen had returned to normal. Tried the phone again. This time it rang before the same thing happened again. Gave up and listened to Jazz FM.
I got in just in time to say "Hello" and "Cheerio" as Scamp left to visit Margie. About an hour later, a knock at the door signalled the delivery of my LensBaby lens. Unpacked it from its battered box and made sure it was the right one, then left to visit Margie.
Margie was on good form. Telling us about the problems of riding a Stannah Stairlift and getting it to stop in the correct place.  We discussed sketching and painting and "fishtails".  Margie danced a lot when she was younger and understood lots of the techniques she and Scamp were discussing.
Soon it was time for us to go, but there were lots of stories to listen to.  Best one was about the family searching for an electrician who she was sure was called Shakespeare, only to find he was called Macbeth.  Close, but no cigar.
I spent the rest of the afternoon and evening trying to get an old Huawei phone to work.  In the end I gave up and might have to consider replacing my ailing Samsung.
A quick waltz and quickstep practise tonight brought some of it back, but not a lot.
Tomorrow, Alex and I are hoping to go and visit Glasgow Cathedral.