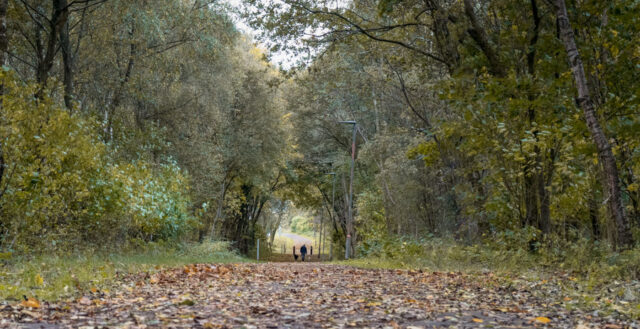 After a quick lunch we were off and the lazy start was behind us.
We set off thinking that the COP26 extravaganza would cause chaos with the traffic on the M8, but actually the road was just the usual snarl ups and then clear. The problem came in deepest Paisley where roadworks closed part of the road we were intending driving on. That meant a long detour to get to the hall where our tea dance was taking place. After such a good start it was annoying to have to start finding a way through the maze of Paisley's traffic. Eventually we arrived about fifteen minutes late. That in itself was a success, just fifteen minutes!
The hall was very busy with a new group of tea dancers ready to strut their stuff. We both found the floor very slippery, so slippery that I changed from my old shoes to my new black and white shoes. That made it a bit better, but still not right. When you looked at the parquet flooring with the glancing light from the window, it looked as if the floor had been newly waxed. That might account for the problem. The other problem was that we were making more mistakes than normal. We tried Social Foxtrot, we completed two tracks of Ballroom Foxtrot and we achieved success with waltz with whispered instructions to each other. Tango wasn't as good as it could have been, but it too is getting there. Lots of sequence dances and for the first time I danced the Sally Anne Cha Cha or to give it another name, FIREBALL! because that's what you're supposed to shout at the end of each sequence. I didn't just in case I got it wrong. Two Scottish country dances and a waltz finished the dancing for today.
I was hoping to grab some of the late afternoon sun when we got home, but the traffic through Paisley and on the eastbound M8 was a crawl. If you can find a space in the fast lane to sneak into, you can get up to 40mph for a while, but it doesn't last. That said, it was better than the M74 beside us was doing, it was almost at a halt, and this is before COP26 gets into full swing with its road closures all over the city.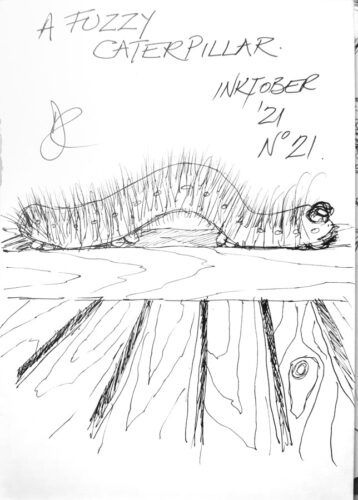 An hour and a quarter after we left, we arrived home. The light was all but gone, but I managed a few shots taken along the lane down to the shops. A bit of jiggery pokery in Potatoshop and it became PoD.
Sketch prompt was 'Fuzzy', and that's what my little caterpillar is. It was just a ten minute sketch, but it covered the basics and the prompt.
Tomorrow we may go for the messages at The Fort with the chance of lunch there too.