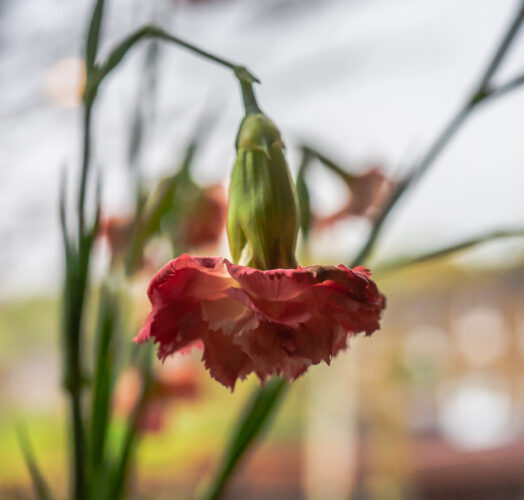 Today we were driving in to Gorbals for a tea dance.
If I'd said that thirty or forty years ago you'd have thought I was mad. Gorbals, then had a really bad reputation. Now it's all high flats, bright colours and roads that seem to take you where you want to go, but don't. Today Glasgow is a different city.
When we started the car, the headlights came on. It was about 12.20pm. That will give you an indication of how bright it was today! The sat nav took us into Gorbals by M74. Then by a series of zig zags we almost reached the destination. But for some reason it took us round in a circle before dropping us outside the Glasgow Club and we recognised the inelegant building immediately, but had arrived from a completely different direction from the last time we visited.
The Glasgow Club is a giant gym, pool, dance studio sort of place. We'd been there before, just before the first Lockdown, 12th March 2020 to be exact. There were a lot fewer couples this time. Only five of us in total including the couple who were running the dance and an Indian lady who was recovering from a knee operation and wanted to see if there was anything that would give her some gentle exercise. Scamp talked to her while we were waiting for the music to start. I don't think she realised it was more of less couples only. She didn't stay long, but I don't think it was anything Scamp said 😉
As time went on another couple joined our ranks and a really thin lady we recognised from our previous visit in 2020 appeared too. We both remembered that she danced the followers steps, alone. I wouldn't say the people were the most friendly group I've ever met and strangely enough that's what I said eighteen months ago too! An older couple did speak to us after a while and the bloke who was running the show did too, in fact he was quite encouraging. Maybe he was hoping we'd return and eventually become regulars to help boost their numbers.
We danced the waltz part we already knew and added some walking steps. Scamp would whisper "Four Forward Steps" when she felt we needed the extra distance and to break up the repetition of the few waltz steps we knew. We tried quickstep, but it was beyond me, just a hint of the moves in my memory weren't strong enough to build a dance on. Foxtrot was good, though, after a while. By the end of the two hours I was beginning to get the hang of it. Sequence dances interspersed the ballroom and latin and we even learned a new sequence routine Catherine Waltz which we learned on Zoom in the living room during Lockdown. I even danced a Cha-Cha line dance. I'm sure you've heard me say on many occasions that my least favourite dance is cha-cha and I don't do line dances. Today I did. I drew the line at Saturday Night Fever, but of course, Scamp joined in.
The sat nav took us home by a completely different route. As far as we could remember, it was the same one the Juke took us back in 2020. Why does this sat nav have two different routes for the same start and destination? Only Smarties have the answer. And yes, the automatic headlights were on again.
Stopped at the shops for a bottle of wine and two pots of sticky toffee pudding, because we deserved them. Another tea dance (without any tea break) under our belt.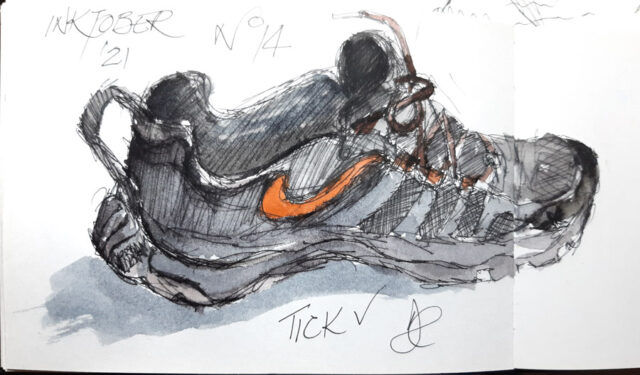 Today's PoD is a wilting carnation, taken on the kitchen window sill. I do believe, for once, it was brighter when we got back to Cumbersheugh than it had been all day! Today's prompt is "Tick". I was determined not to draw any little black arachnids, so I chose the Nike 'Tick' ( ✔︎ ). I sketched my old battered and much maligned Merrell Moab trainers and stuck an orange Nike 'Tick' on the side, rather than just draw the tick itself. I hate the 'swoosh' word. It's not even a real word! I'm quite pleased with the result.
Tomorrow we may go looking for an Indian Restaurant we've visited in the past in Hamilton.