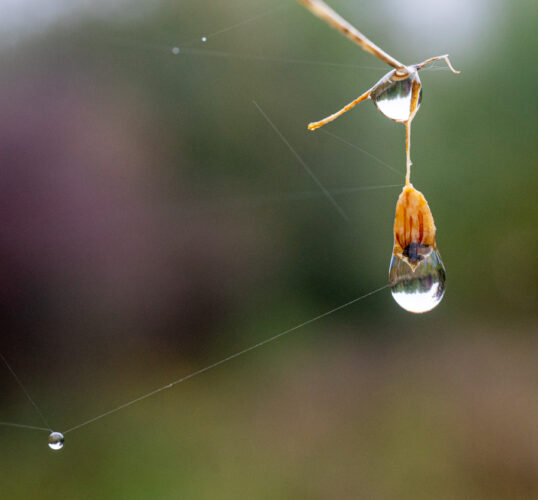 Just as Inuits allegedly have thousands of words for snow. Scots have thousands of words for rain.
We saw a lot of those varieties today. Heavy rain, light rain, drizzle, smirk and everything in between. Just not a lot of dry spells. This left little opportunity for photography. As I said yesterday, there were lots of things to do in the house, just we didn't want to do them.
Eventually, late in the afternoon I did manage to drag myself off to St Mo's for a walk with a Sony. It rained all the time I was out. That same mix of heavy rain, light … well, you get the idea. I did get a few photos of the effect the rain had on the plants. Eventually I headed home with the prospect of at least a couple of shots.
Dinner tonight was Cod with Prawns and Fennel, a fairly standard weekend meal. Pudding was the last of Scamp's lemon drizzle cake, served with custard.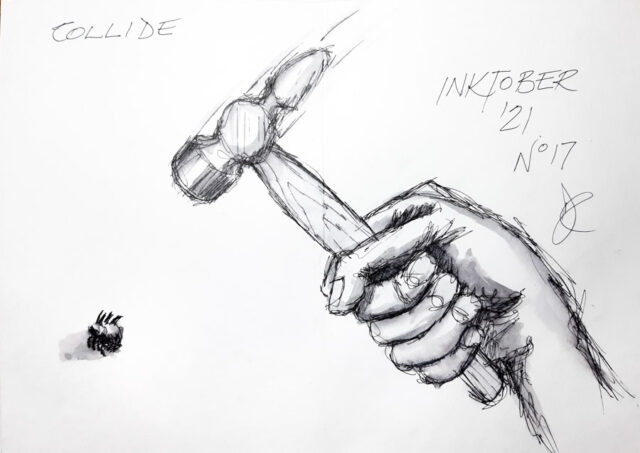 PoD was a little glass-like ball of rainwater hanging from a weed in St Mo's. Today's sketch prompt was 'Collide'. I puzzled about this for a long time, but just before I made the dinner I found I'd picked up a tiny, and I mean tiny tick on my walk round St Mo's. Once I'd disposed of the tiny beastie, I got an idea for a sketch. It's a little tick about to collide, or be collided by a cross pein hammer. I felt that was a fitting solution to the puzzle set by 'Collide'.
Spoke to Jamie tonight and heard some good news on the house front. It looks like things are moving on at last.
Tomorrow looks no better than today as far as the weather is concerned, so maybe it WILL be time to start some of those inside jobs, but not until we have our monthly meeting with the lady who brings the throat and nose swabs and who asks those personal questions!