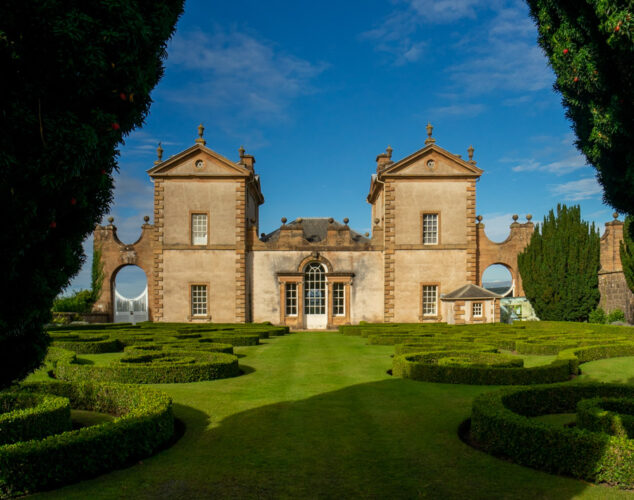 My choice of venue today and I chose Chatelherault, because I can spell it without having to look it up!
Drove to pick up Alex in Motherwell and ended up sitting talking to him and Carol about lots of things, but most of all nothing to do with photography! Their grandson, Jack had been sick all night last night and was a bit disappointed he could come and meet me just in case he passed on his bug. Maybe next time. After an hour or so, Alex and I left to drive to the Chatelherault estate. It's centered on a big house that stands on a hill looking over a great avenue of trees to the town of Hamilton. In fact it looks straight down to the mausoleum where the Duke of Hamilton, who owned the house, is buried. What a strange thing to do on a bright sunny summer morning, to look over where you know you will be interred!
It was the big house itself that was our first target and we took a few shots of it under a clear blue sky. Then some shots of the avenue with Hamilton in the background. Thanks to the amount of rain we've had recently the atmosphere was clear and cool with no mist of haze to spoil the distant view of Ben Lomond and The Cobbler. From the house we walked down to the Avon Bridge and what did I see there, but a kingfisher. Just a tiny wee spot, and just as I pointed it out, it flew off downstream. We both saw it and it couldn't have been anything else. That bright iridescent blue is unmistakeable. We waited to see if it would return, but it never did. Such a shame. Too far away to get a photo, but we saw it, both of us saw it. First time ever for Alex and first time in about ten years for me.
We turned and walked back to the centre along the river walkway, swapping cameras as we walked. Alex got a chance to try out the full frame sensor of the A7 and also the neatness of the A6000.
Lots of folk running and cycling along the path and lots of things to photograph. Then it was a tough climb up never-ending steps to bring us back to the grassy banks of the estate.
Had lunch at the centre and then went for walk over The Duke's Bridge to see the Cadzow Oaks. Ancient trees that have survived for thousands of years only to be burned by some morons. Such a shame. Then it was back to the big house for a last few shots in much better light than those we'd taken in the morning.
We both agreed that the next visit will be Alex's choice and it looks like it will be in a couple of weeks and will be to Kelvinbrige in Glasgow, maybe with a visit to the Kibble Palace.
Scamp had been busy while I was away, planting Snowdrops and raking the grass at the front of the house. She'd also gone for a walk in the town centre and it confirmed her fears that it is falling into disuse. Plenty of nail bars and charity shops, but little else. A common complaint in Scotland.
Dinner was Giant Fish Fingers, Chips and Beetroot. Lovely food and just what I needed.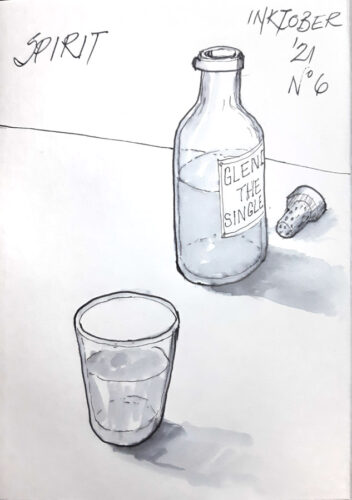 PoD was a picture of the big house and the formal garden framed by two giant yew trees with their strange red fruit looking like soft plastic or red pitted olives if such a thing exists. Sketch for today was Spirit, and I was thinking more about the alcoholic liquid spirit than the Woooo! kind.
Tomorrow we're intending to go to another tea dance. Same venue as a fortnight ago. I did enjoy it, I just don't know if my back will!