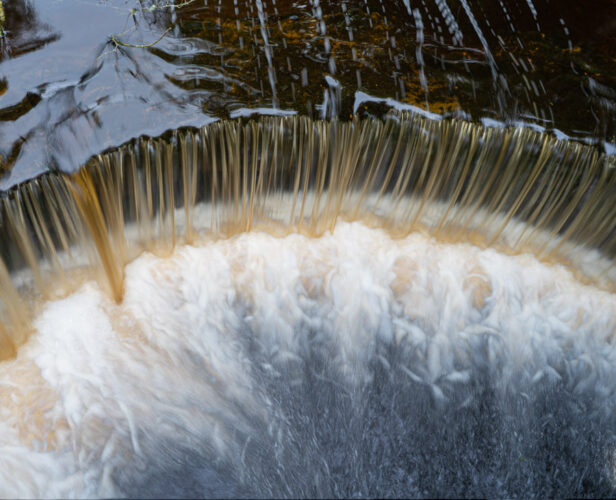 All are here, but not in that order.
An easy start to the day. Wordle completed (Scamp got 4, I got 5). Sudoku completed and an early lunch was a piece 'n' banana, delicious. Then we were off!
I drove Scamp over to Hairmyres this afternoon to get her eyes checked, the optician had spotted an irregularity in a scan she had in Larkhall, a month or so ago and she was referred for a further scan at Monklands a few weeks ago. Then Monklands referred her for yet another scan at Hairmyres. Turns out there is a thinning of her retina in her left eye which is something to do with her extreme shortsightedness, but there's nothing that needs to be done about it just now.
While Scamp was at the outpatients, I took myself off for a walk round Calderglen park in East Kibride and got some photos. There's a neat wee horseshoe shaped waterfall not far from the car park and I though it might make a decent slow shutter shot. Of course I'd left the tripod in the car and I'd also forgotten the ND filters, so it was hand held at 1/5th sec. Using the silent shutter feature I shot off 15 frames rapid, then blended them in Photoshop tonight. Quite impressed with the result, except that the image was a 2.72GB file! It was impressive, but not THAT impressive. However, it was good enough to get PoD.
When I was walking back to the car, Scamp phoned to say that she was finished and was having a coffee. I drove to meet her and had one too. When we got back to the house it was my turn to go to see the doc. I had been to see the triage nurse week before last because I've had a nasty looking rash on my leg. She said it might be dermatitis but thought there was a wee fungal infection there too. She gave me a couple of meds that seem to be working, but asked how my general health was and I told her ok, but I have an off and on problem with my waterworks. She sorted me out with an appointment with one of the docs for today. He suspected it might have something to do with my prostate, but after a 'digital' (nothing to do with computers!!) examination, gave me the all clear. After I'd wiped the tears from my eyes I thanked him and made my exit!
I think that was enough excitement for one day. We're now looking more closely at the arrangements that will be needed for our holiday. It appears we will need a negative Lateral Flow test no more than 24 hours from when we depart. We also need to have proof of all the vaccinations we've had. I think we're ok with that, but we'll check with the dance teachers on Saturday as they're at present in Cyprus and have up to date details. Just to check if the NHS Scotland app is enough evidence, or do we need a printout. We might have a word with you too, Jamie and Simonne as you're not long back from Germany.
Maybe going looking for a new phone tomorrow in Glasgow. Hopefully a brighter day than today.