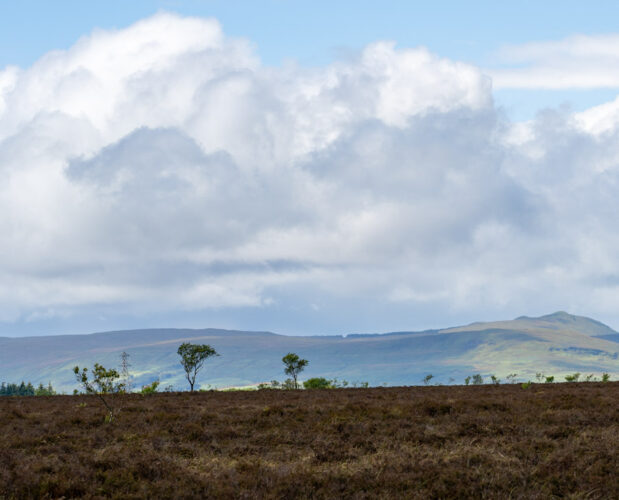 Is this really 'Flaming' June, I ask?
One of those days for relaxing and looking out at the weather, but you can't always be sitting on your bum. You sometimes have to force yourself to go out and do things, to move is enough some times. Today, Scamp was cutting flowers and tidying up in the garden. My part in it was staking the Honey Bells that are all in full flower and providing a great feeding ground for the bees. Unfortunately the wind is bending their stems into weird shapes. This makes the flower heads bob about even more and causes the bees problems as they are coming in to land. A few bamboo canes and some garden twine gave them the support to keep the stems vertical while still allowing a bit of movement.
After lunch I was mooching around the house again and needed to get out and find a photo. I drove up to Fannyside and found my parking space empty this time. I had a walk up the road towards a farm. I'd brought two cameras with me. The A6000 had a Sigma 10-20mm very wide angle lens and the A7iii had the massive Sigma 105mm macro. Two Sigma lenses separated by about 15 years. Both exceptional in their own fields. However, it was the 105mm that got both of todays 'keeper' shots, and PoD went to a landscape shot of some stunted trees with the Campsie Fells in the background.
Dinner tonight was a lightly smoked salmon fillet with broccoli and crushed baby potatoes and chives. Light and lovely. This from a man who says he doesn't really like salmon!
We watched the Azerbaijan GP. It was a race full of failures for the Ferrari powered cars, I lost count of how many failed to finish. Not a good day for the leaping horses!
Spoke to Jamie in the evening and heard more about bat surveys, and their cost. Scamp and I were really impressed by Simonne's photos from the garden. Some beautiful flowers there, well done the pair of you.
The winds died down in the evening as they have done for the past week, let's hope they don't return tomorrow.
I'm taking Scamp to hospital tomorrow to discuss a little problem with her eyes. Apparently it's been there for a long time, but the cataract surgery has brought it to the optician's attention. I've got a doc's appointment for a check up in the late afternoon. Twice in a fortnight! I'm getting my money's worth from the NHS now.