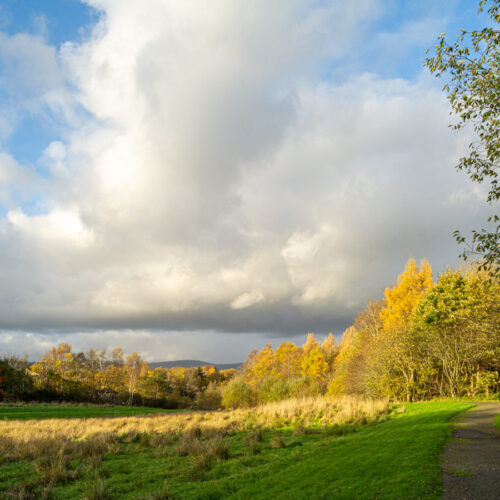 A bright November day, although not as good as yesterday.
Scamp was out early to get prepared for our version of Strictly. I may get shaved later in the week if I can be bothered, that will be the sum total of my preparation. While she was out I did do some catch-up and got the blog posted. At 11.45pm last night I realised I hadn't posted the photos on Flickr, nor had I written the blog. The blog takes well over half an hour to write and post on a good day, when the server, somewhere in deepest America, is running at about half speed. On bad days it's on a go-slow and that half hour is how long it takes to send to exchange its starting handshake. I wasn't going to risk it. I'd write it in the morning when most of America is in sleepy bye byes. I posted the photos on Flickr, then closed the Mac down. I hate having to write and post yesterday's blog the next day, but I also hate dragging myself to bed at 1am. That's my excuse, take it or leave it.
With the blog posted and the date changed to protect the innocent, I checked to see when my coffee grinder would arrive. Helpfully, Amazon tell you now roughly when it will arrive. Very roughly. It was 11am when I checked and the news was that it would be delivered today by 10pm. Somewhere in that 11 hours the Amazon person would leave it on our doorstep. I really think they could be a bit more accurate in their estimates.
When Scamp came back I was measuring out some coffee beans into the De'Longhi grinder that came with the coffee machine. It's a bit rudimentary, but it works and even gives you a sort of idea how fine the grind is. Not as good as the 'today by 10pm' Krups grinder, but good enough for a cup of strong espresso.
Scamp phoned to see when her glasses would be ready, only to find, after a few more phone calls that they may not be ready until next Wednesday. Eventually we agreed that it wouldn't be the disaster it appears, because from Sunday she won't be wearing her contacts anyway. Also, today I went up into the loft to get a newer pair of emergency specs from the holiday case. They won't be as up to date as the ones we're waiting for, but they will hopefully be better than the old pair she found and will allow her to walk around the house.
I held on for a few hours after lunch before deciding that I'd take a couple of cameras out for a walk. Just as I was leaving the man from Amazon was photographing the coffee grinder sitting on the doorstep. Thanked him and unpacked it. It looks just like the old one. Let's hope it works as well and as hard as that one did.
I took a walk round the pond and then went into the woods that run parallel to the motorway. The trees there aren't quite so closely crammed together, plus they are mainly deciduous and have lost most of their leaves now, so there was a bit more light. I did get a photo of a wee black fly with red eyes. It was sitting in the sunshine on a tree trunk and moved round with the sun. Not much time left for sunbathing now little fly. That didn't get PoD. The award went to a view from the grassy area between the houses and St Mo's. Lovely light and a beautiful yellow tree.
When I was coming home I slipped on a stone and fell into a muddy bit of a burn. Almost managing to stop the camera falling into it. Almost. When I got home and told Scamp, she asked me if I was alright. I said "Och that doesn't matter, but I think I got some grit in the lens." The expression on her face said it all. "We are not amused!" Yes, I was fine, and so it seems was the camera and lens combination.
Tomorrow I hoping to pick up my new walking trousers in Glasgow, which will be useful after today's little incident!