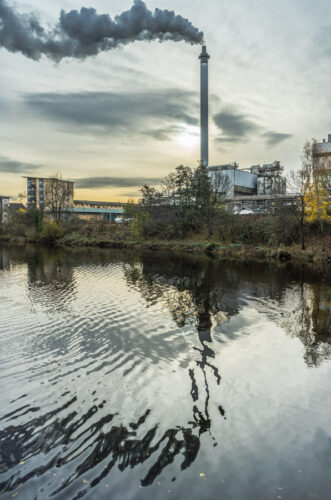 A bright day, but a cold one. You can't have everything.
We drove down to Glasgow Green today, Scamp's suggestion. It had been quite a while since we'd been there. These days you have to be very calculating or very lucky to get to walk an unmolested Glasgow Green. It seems that every weekend there is preparation for, or demolition of an 'Event'. We must just have been lucky, because we didn't do any research for today's walk, and the 'green' part of Glasgow Green was just as it should be, empty of scaffolding or wire fences. Wonderful. The old boathouse was being renovated, but that's ok, because it's on the edge of the green and didn't inconvenience anyone.
We walked a fair bit of the periphery of the park as did quite a few others, but the feeling of space today was cheering. It was a shot from The Green that I got today's PoD which was the reflection of the chimney and the smoke from the Strathclyde Distillery reflected in the Clyde. Another day with that strange yellowy sky. I'm guessing it's because the sun isn't rising very high in the sky and is therefore shining through a thicker layer of dust and smoke than in the summer.
We walked almost as far as the bridge over the Clyde to Richmond Park, but we were both feeling the cold by then and decided a warm car would be a better choice and left Richmond Park for another day. We stopped on the way home to have a coffee in Costa at Robroyston and then stocked up of essentials (which didn't include a bottle of gin, this time) at Lidl before driving home.
After we'd unloaded the car I changed keys and drove Scamp's Wee Red Car to Boots at Craigmarloch to get Scamp's prescription and also to give the wee car a run. I made sure the heat was flowing before I made my way back and got home before the St Mo's weans came out of school.
I was half way through making Fish Curry for dinner when a strange message appeared on the TV. Something about the program being suspended, then Scamp noticed that the modem was off. I checked the electricity hadn't tripped, but it hadn't. Then the modem's lights came on, but stayed at a flashing green. That's not a good sign. I couldn't get through to Virgin on my phone and I feared the worst. Eventually, after an hour, I got the message that there was a problem in our area, both Broadband and TV. Nothing to do but wait. Now I know what cold turkey feels like, even if I was eating hot fish curry. Then everything started up again. The electricity had gone off yesterday, for the whole street. Today it looked like the broadband had been the victim. Now, there is a group of council workies digging holes and doing some 'repair' work in the next street. Now call me suspicious, but … !
Tomorrow looks stormy. We look as if we're on the edge of the 'amber warning', but that's by no means certain. We'll hang onto our hats and hope for the best.