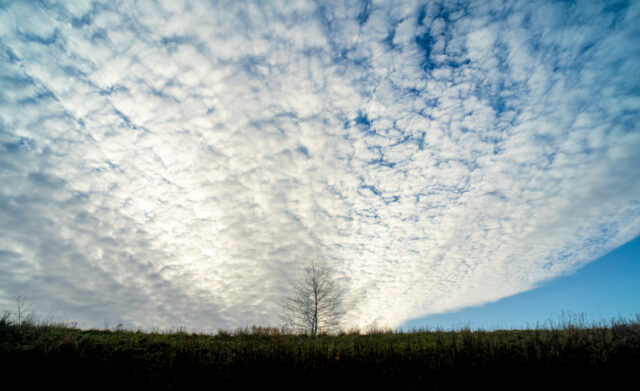 A very dull start to the day, but the weather improved as the day went on.
Not the most interesting of days. A bit dull to start with, but that was before the rain came and dampened our spirits even more. I messed around with the new external SSD drive (which is bad English, because the 'D' in SSD actually stand for Drive, so what I've written in Solid State Drive drive which is nonsense and a wasteful use of the word 'drive'. The pedant's pedant, that's me). I copied X-Plane to it and then ran it from there rather than from the computer's hard disk. The difference in speed was appreciable. Loading took about a quarter the time. Clever little bit of kit, the SSD.
In the afternoon, once the sun had found a way to shine out through the cloud layer, I took the Sony out for a walk in St Mo's. I found a little Garden Cross spider that now has a place on Flickr, but PoD was really the sky. As I came out of the woods on to the boardwalk, and I saw the sky, I knew that would be PoD. It took me quite a while to find the right spot, angle and lens for the photo. Even then I dithered for a while choosing from two different trees. I finally chose the fragile looking birch to be the focus. Hardly any post processing for once.
Back home we decided on Fish 'n' Chips for dinner. I walked over to Condorrat about half past four and by the time I was coming back it was almost totally dark. I noticed the moon rising over the town centre and it looked like a full moon, but apparently that was last night. Still, it was glowing well over the Thunder Dome as John used to call it.
We watched the qualifying for the Quatar GP, but I'm growing tired with the politics and general bad feeling between the leaders. I'll still watch it to see who wins, but Verstappen's constant flouting of the rules and Hamilton's aggression is putting me off. It's come down to a two horse race and I wouldn't back either of them.
Tomorrow looks better than today, so maybe we will get out for a walk. If not, a wee dance practise wouldn't do any harm.