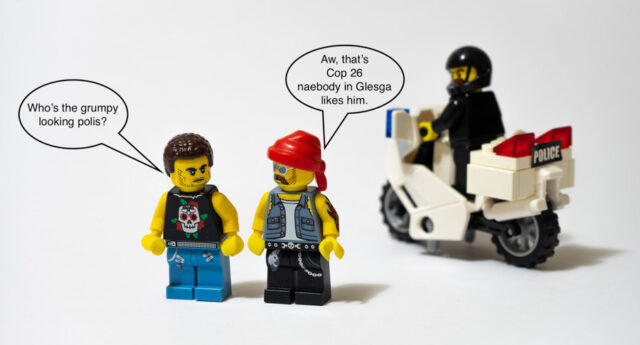 Out fairly early to take Isobel for coffee. I got styrofoam coffee.
Isobel demanded that she pay and there was no swaying her. I don't know what the girl did to the skinny cappuccino, but the milk went quite gluey. I've never seen that before and I hope I don't see it again. I suppose I should have taken it back and told her it wasn't a skinny cap, but it was more fun listening to Isobel's stories. Always interesting and always irreverent. After she'd found out all Scamp's news and we were up to date on her Hazel's escapades, we went our separate ways and Scamp and I headed in to Glasgow in torrential rain, hopefully to get a new pair of winter walking trousers for me with just the outside chance of a new jacket for Scamp.
We both came out of Tiso empty handed. The bloke I asked about the trousers couldn't be bothered because they were cheap and he wouldn't get any brownie points for selling a pair. At least, that was the impression I got. He told me they didn't have them and they wouldn't have any online. Which is strange because I've just had an email to say I can pick up my order at the shop in a few days. Scamp was also unburdened by a new jacket. £350 for a new jacket wasn't quite in the price range she was considering.
After a bit of indecision we chose to go home for lunch, via Currys at Bishopbriggs to buy the tablet I should have bought yesterday and a replacement coffee grinder too. Except, they had the tablet, but only a Sage coffee grinder for £165. Just a little bit more than I wanted to pay and the thing was so big I don't think we could have found a space for it on the kitchen worktop. Ordered it from Amazon when we got home.
The rain hadn't abated any since we drove in to Glasgow earlier in the day, in fact it was getting worse as we headed towards Cumbersheugh. The prospect of no photograph of the day was looming large. About 5pm the rain stopped for a while. There was no light then, so it was going to be an inside shot today.
Clever Scamp suggested a 'Weemen' picture because it had been ages since I'd done one. I wasn't won over right away, then an idea formed and that's what you see here as PoD. A wee bit of Glasgow humour.
Tomorrow it still looks like a decent day, so I'm hoping Alex and I get out for some photo opportunities and a bit of techy conversation. Scamp may visit Shona.