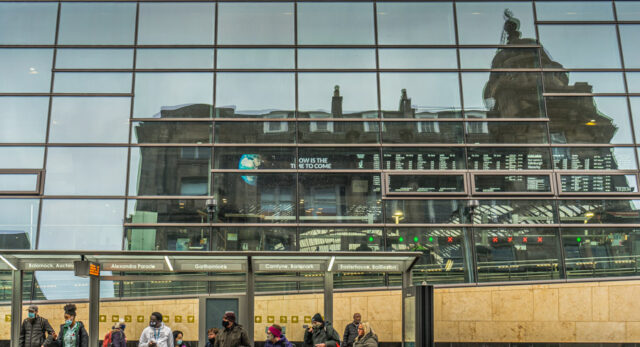 The first for a long while.
We got parked on level 4 of Buchanan Galleries, which a couple of years ago would have been impossible. Today there were lots of spaces on level 4, and I even missed a few on level 3.
First stop was Paesano for a lunchtime pizza. Even Paesano was quiet today. Maybe something to do with COP26 or maybe something to do with the ongoing pandemic. Whatever it is, it's not a good sign. Pizzas were lovely. My number 3 (anchovy and olive) had a few more slices of garlic than normal and I liked that. Scamp had her new normal number 1 (tomato sugo, no cheese no cheese extra rocket and mushrooms) was perfect for her. Her usual complaint was that the base was too thin.
While I went for a walk in the sunshine down to a charity shop in the merchant city to look for an old manual lenses and then on to Cass Art to see what was going cheap, Scamp was going clothes shopping. We agreed to meet later in Buchanan Galleries.
Only one lens in the charity shop and it was an M42 thread teleconverter. Something that goes between the camera and the lens to increase the focal length. Makes the lens into a telephoto, in other words. Not what I was looking for. Maybe next time.
Cass Art had a sale on with 20% off across the board. Not an 'up to' 20% reduction, just an honest 20% off everything. I bought two 'concertina' A5 sketch books and a bright red bag to carry then in.
Walking back to meet Scamp, I found today's PoD, a queue of punters waiting at a bus stop outside Queen Street station with a sign above that read "Now is the time to come". We've all stood at a bus stop willing the bus to come! Scamp hadn't found any clothes that she was happy to spend money on, but she did find some pretty coloured and smelling shower gel.
Met Scamp and remembered that I needed a black belt for the weekend. Not the most exciting thing, but I found what I was looking for in JL. We went home. The clouds were gathering by then and I think we had had the best of the day.
Later in the afternoon I went for a walk to the shops and it started raining. It's definitely raining now. Just what the weather fairies predicted.
Tomorrow morning I'm off for my 'annual' checkup with the nurse. The first in almost two years.