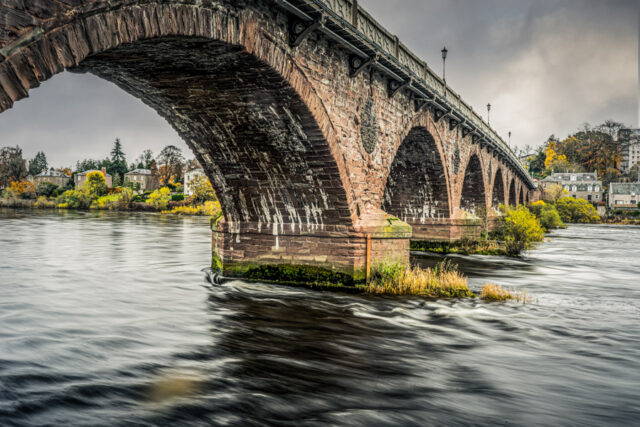 One more breakfast of champions, One more morning walk through Perth, One more tea dance. Then home.
Breakfast was a bit quieter than yesterday with a lot more empty tables, but the same selection of fruit and fries. Not all the tables were fully stocked with cups, cutlery and napkins. Just another little niggle that showed this was indeed a three star hotel. I'll bet Bonnie Prince Charley didn't have to go and nick his cutlery from another table!
Fed and watered, we went for a walk along Perth's riverside. It was a bit colder than yesterday and a lot duller too. Neither of these inconveniences stopped us walking through the park for half an hour and neither did it stop me from getting a photo or five, more like twenty five though. The one that eventually, after some post processing, made PoD was a slow shutter speed shot (alliteration of 'S') of the upstream bridge over the Tay with the smooth water that only comes with shutter speeds of 1/8th of a second or longer. I knew you'd want to know that Jamie!
Walked back and we were ready for the final dance of the weekend. First we all observed the Minute's Silence, then the dance began. I was expecting a couple of dozen folk to be there, but there must have been around fifty. All still raring to go. It was only an hour long session, but it finished off the weekend perfectly. Said goodbye to the folk we knew.  After that we handed back our key and got a QR code to scan into the parking ticket machine which gave us a 50% reduction on our parking costs, once we worked out the sequence of scans to do it.
Drove home via M&S in Dunblane to get tonight's dinner, because apparently we have to make our own dinner, and breakfast here in Cumbersheugh!
It was an interesting and exhausting three days. Now it's back to "auld claes and purrich" as my dad would say. Tomorrow we're hoping to have a more relaxing day.