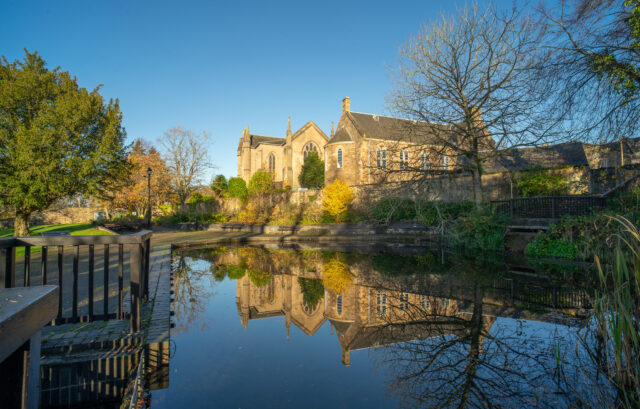 Back to our regular Saturday class, in a different venue.
Breakfast in the restaurant of the hotel. Just like being on holiday in Lanzarote or Fuerteventura, but just a tad cooler. Not self service either, but the same food choices. Tinned fruit cocktail for each of us, then a choice of eggs, sausage (veg and pork) hash browns, beans, tomatoes and bacon. I suppose you could have had all of the above if you wanted, but we restricted ourselves to what we felt was appropriate. Restaurant was busy, but we got the chance to share a table, strangely enough with two of the folk who had been at our table last night.
After breakfast, Scamp and I went for a walk through the town that was just waking up. Strange to see Perth at this early hour. We walked down to 'The Ship' which is really the viewing platform. A curved platform that cantilevers out over the river and gives you the feeling that you are indeed on a ship. Walked back to the hotel ready to start the class.
The lesson today was the Vogue Waltz. As usual, it looked impossible when the teachers danced it through. Then we had the step by step walk through and it began to look possible. Danced the whole thing and the individual figures began to fit together. The problem, as always would be when we tried to dance it again after an hour or so.
Afternoon was free time. We went for a coffee in Nero then walked over the middle bridge of the three over the river to the gardens on the other side. Bright sunny autumn day. Beautiful colours in the trees and we found a couple of ponds with great reflections of the church. Walked down as far as the railway bridge and then walked back through the gardens to the upstream bridge. Watched two punters, one in a kayak and the other on a paddle board making light work of the rapids below the bridge. Got some coffee, tea and a replacement plunger for my Aeropress at the Bean Shop. By then we decided it was lunch time and I suggested a pizza in Pizza Express. I had a pizza, Scamp had a chicken salad. Both filled a wee space! Time to go back and get ready.
Posh frock and suit for dinner. It was meant to be a black tie event. I had a black tie, but no black suit, so my dark grey one would have to do. Dinner was much the same as the yesterday's. Service was even slower than usual. Waiter seemed to stomp of in the huff when a bloke at our table complained of a draught from the door into the kitchen. He didn't seem to want to serve the coffee after the meal. Eventually Scamp had to ask for coffee and he did serve it, if reluctantly. You just can't get the staff these days. We were a full complement at the table tonight with a couple from Dundee taking the last two seats. Bloke as a bit of a pain, complaining that they shouldn't have same sex couples on Strictly and that they needed a man and a woman as presenters, not two women. His wife was extremely condescending and just wanted to talk about herself and her family. Nice dancers, nasty people. Glad when they had to leave early.
We danced all night, completing another two salsa routines with Peter and Gillian. Was that 'completing' or 'competing'? I'm not too sure! It was fun whatever slant you take.
Dragged ourselves off to bed just after midnight.
Today's PoD was that reflection of the church I mentioned.
Just an hour's 'tea dance without the tea' tomorrow. Then it's the long road home.