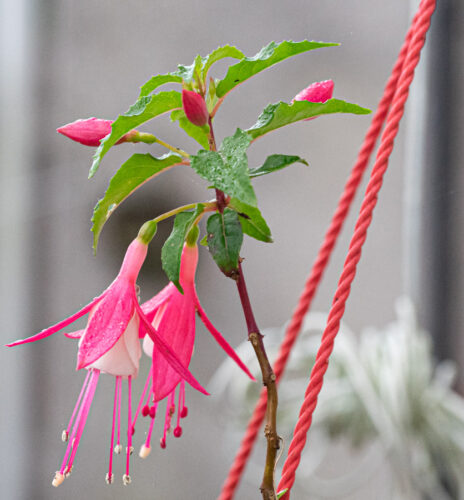 We had wished for sunshine today, but apparently it was out of stock.
Since I was up first for a change and it wasn't actually raining, I grabbed the Sony and went for a walk … round the garden. That's where I got today's PoD which is a lovely little Fuchsia hanging on a hook in the back garden. It's splash of colour was very welcome.  Came back in because the rain had started and stayed on for the day.
I'd just come back in when Hazy phoned. We had a long talk about consultations, because it's not just Scamp who's having problems just now. Hazel is steeling herself for a hospital appointment, Neil is being overloaded with school work and his granny isn't doing too well either. I think it's something to do with the time of the year. There seems to be a dip in enthusiasm just after the clocks go back. Daylight seems in short supply and darkness comes early. Nothing to look forward to until Christmas and that's still over a month away.
I drove down to the shops to get tonight's dinner and that was the extent of our travel. A load of scaffolding was delivered to the 'pensioners' house next door. It appears that there is work to be done on the roof. That was a little bit of excitement on a really dull day.
Scamp is sticking to her pledge and working with the glasses, even although they are heavy and keep pulling down on her nose. If I get finished this blog tonight, that will be me up to date. Take a few days off from blog posting and it takes more than a few to get it up to date. It's good fun to read what happened last year though!
Tomorrow I've got a coffee appointment booked with Val. That might brighten my day, and give Scamp a rest from me!